Through both good and bad economic times, the self-storage sector has proven to be a steady performer. Many have even dubbed the self-storage industry to be considered recession resilient. This is why many investors are still diving in and staking their claim. To get in on the action, you can either buy an existing self-storage facility or develop a new one. Successfully constructing a self-storage facility involves a multitude of factors, including choosing the right site, creating a design with layout, developing the best unit mix, and deciding on which contractor you want to partner with for this adventure. This may all sound simple, right? Well, not so fast. Let's zoom into some of the details and discuss how the fundamentals will provide optimal results.
Just as with any investment endeavor, the ultimate goal is financial success. When developing commercial self-storage, the best way to accomplish that is to carefully plan the basics: site selection, unit mix, and site layout. For many, the industry business model may look simple: buy land, build, and make money. And the truth is that in the beginning, it may have been that simple, but today, it's more complex.
The self-storage industry, as with many similar industries, is experiencing greater competition, steeper land costs, increased building material prices, as well as additional regulatory burdens. Interestingly, the self-storage industry has begun to see a higher demand for climate-controlled and multi-story buildings. Both result in a higher expensive to develop, with a longer lease-to-stabilization time. However, they continue to be a solid investment choice for many markets.
Let's jump into three fundamental factors that contribute to a self-storage facility resulting in financial success. These apply to the first-time developer, as well as those that have been in the game for some time. Everybody should take into consideration these basics.
Site Selection
Site selection is one of the most critical factors in planning for the success of a self-storage facility. Studies have shown that 75% of self-storage customers live within 2 miles. Also, keep in mind that customers are likely to choose a facility where they don't have to cross an impeding barrier (e.g. a busy thoroughfare). Below are some additional key points to consider when looking for that ideal location.
High Visibility - Chose a location that people will see repeatedly in their daily commutes or while tackling their routine errands. The more visibility that you have the less you will have to spend on marketing efforts to bring awareness of your facility.
Growth Areas - Look for a region where there are new neighborhoods or multi-family complexes being developed, as well as, general commercial growth. If they are building other commercial establishments, it is a good indicator that somebody else has already done the homework on the area.
Demographics - Identify who is in the region that you are looking. Ideally, find an area that has a higher-than-average household income. You'll also want to take into consideration the age range of those living in that region and what the gender is.
Competition - It is critical to know if an area is "over-saturated". Typically, look for regions where there is 8 SF/capita or less. Basically, you want to find a region where the demand is higher than the supply. Don't discount a site just because there is competition, there is more to take into consideration. For example, are they sold out of desirable units. However, the less competition in the region the better it is for a new site.
Parcel Size - The type of self-storage facility that is being developed will directly influence the size of lot you will need. Single-story facilities will need a minimum of 3-5 acres, whereas a multi-story could only need 1.5 to 2 acres. If building a RV/Boat Storage, you'll want to look for 7-10 acres.
Zoning - If the site is already zoned for self-storage usage that is fantastic; however, many times it will be required to get the property "rezoned". Research what it takes to do this with the local planning and zoning department. Depending on the complexity and time it may not be the right property; however, don't pass it by just because a little extra legwork may be required.
Keep in mind that not all land is good for self-storage. A good site must have the attributes discussed previously. If it doesn't, it is best to keep looking for one that does. Also, don't discount land that may already have structures on it. Sometimes a good parcel of land at the right price is worth demolishing existing buildings.
Also, when you discover an area that's under-served, chances are other self-storage facility investors and developers have noticed it as well. Part of your due diligence is to check with the local building authority to see what other facilities may be in the planning phases. This may or may not change your decision to build but being aware of existing or planned projects is always good information to have.
Site Layout
When you have found an ideal site location it is time to design the layout. It is critical to make the very most out of every square foot. If the space isn't being rented, then it isn't making money. Creating efficiency is key. So, where do you start? Well, you will want to partner with an experienced drafter/designer that specializes in self-storage facilities.
It begins with what type of self-storage the market has a demand for and what type storage you will see the most return on. Many sites have a mixture of unit types, and it varies from location to location. That is, there could be a mix of climate-controlled, traditional drive-up, and perhaps even some canopy coverage for boats & RV's.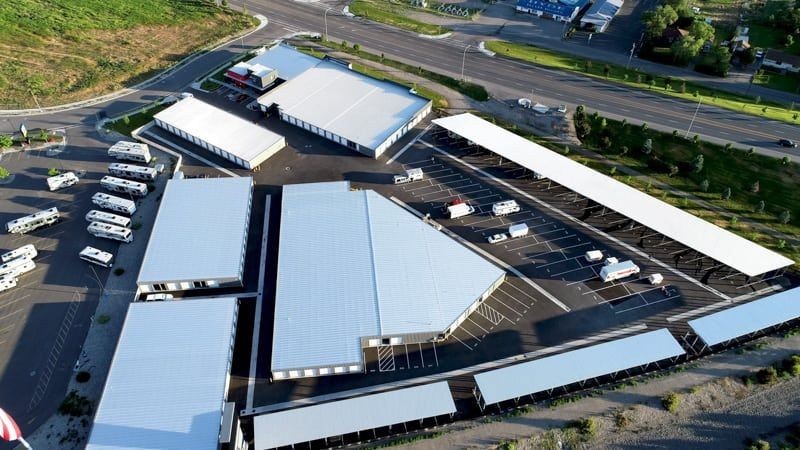 To create a site layout, you will need a site survey or at the very least a Platt map. This is required by the designer so they can take into consideration setbacks and easements. From there you'll want to have some basic parameters for the designer. Either a rough sketch of what you want or specifics on square footage per storage type. For instance, you may want 50,000 SF of Climate-Controlled, 24,000 SF of Traditional Drive-up, and 16,000 SF of Canopy RV Storage.
Beyond, the general layout of the buildings, other considerations need to be made. Such as, secondary exits for fire emergency vehicles, drive aisle requirements, turning radius needs, set-backs, easements, and retainage ponds. These will all contribute to how the space can be used and the maximum space that can be built on.
A good designer will be able to take your vision and create a layout on the site to give you the maximum net rentable square footage (NRSF); however, they are going to need one more piece of information. That is the Unit Mix.
Unit Mix
Self-storage unit mix is normally a product of population density, medium age, and income levels. It is key to understand the market in which you are building the self-storage facilities in. Basically, you are wanting to build a profile of those that are most likely to rent and what is that is important to them.
If looking to build in a region with a higher income, medium age of 45, with the majority owning homes then demand may be for climate-controlled 10x20 units in a highly secure area, as well as storage for RV, boats, and other recreational toys will be needed. However, if it is a more rural area with college-aged adults then the demand may be for traditional drive-up units that are 10x10 in size.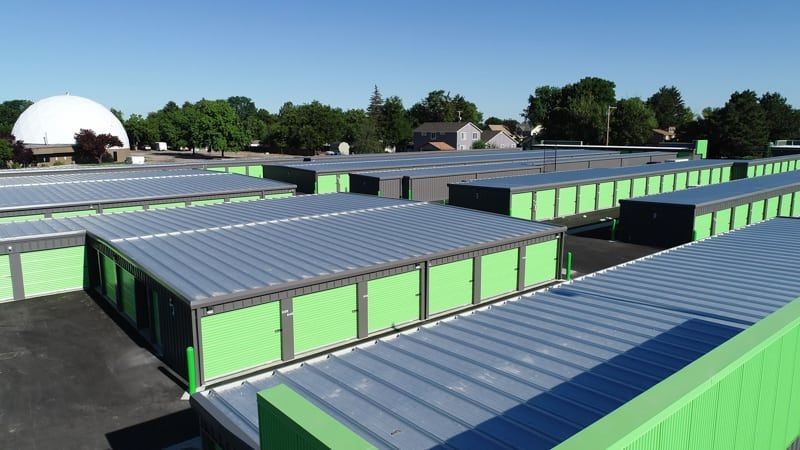 The best way to really dial in the best unit mix is to complete a Market Feasibility Study. This will take all the demographic information, general industry practice, and information about what competitors are doing in a region and give clear insight into the best approach for the project.
It's important to note that your financial return per square foot (PSF) usually diminishes as the size of the unit increases. For example, a 5x10 unit will provide income at $1.40/SF and a 10x10 only $1.00/SF; however, this doesn't mean you should build a facility with a higher proportion or smaller units. It comes back to the demand. Just because you may get more income per SF from a smaller size, if the smaller sized unit is not in demand, then they may sit empty not making any money. Build your site to the market demand, not to the PSF return.
So, What's the cost?
This truly is the million-dollar question that everybody wants to know right off the bat; however, there's not a simple answer. The hard and soft costs of construction will vary from project to project. Let's break it down.
Land Acquisition: 25% - 30% of your entire development budget
Hard Costs (tangible): $55 to $75/SF(Single-Level) | $85 to $120/SF (Multi-Level)
Soft Costs (intangible): $5-$15/SF
Continency Budget: 5-10%
Keep in mind, that prices in materials, such as steel, may fluctuate and this directly impacts the cost per square foot. Also, you may be building in an area that is experiencing labor shortages causing the labor prices to increase as well.
You're not in this alone
At Forge Building Company, we partner with investors and developers on their self-storage projects. We have over 15 years of experience in this space and will provide all the necessary information needed for your project to be a success. We'll come up beside you and walk with you from start to finish.
Here is how we can help.
Site Layout Design: The first design layout is COMPLEMENTARY!
Custom Engineering: We create the structural drawings for the Foundation and Metal Buildings
Metal Building Contractor: We provide materials and erect the steel building(s).
Subject Matter Experts: Our team's combined experience allows us to give amazing insight on best practices from start to finish
---
Melissa Anderson has over 20 years of experience in the Construction Industry and provides insight to those ready to build their brand-new self-storage facility or expand an existing one. With an astute understanding of the self-storage industry, she assists both the seasoned investor, as well as those who are just beginning their journey with the construction of their self-storage project. For more information, reach out to her at manderson@forgebuildings.com or at 208-629-2952.