According to SEMRush.com, big advertisers in the self storage industry spend $300,000- $900,000 each on Google AdWords per month, with much of the spending coming from aggregators like SpareFoot.com and SelfStorage.com who markup leads and sell them to the actual storage companies.
Small advertisers are then faced with a choice: give up control and pay a 2x markup (Google plus the aggregator) or take control and find overlooked and unexploited market opportunities. In other words, look for the mistakes other people are making…and don't make them! Then, look for the companies that are doing things right and try to be a little better.
For the purposes of this article, we used an incognito browser in Los Angeles on both a desktop computer and an iPhone. We used "self storage los angeles" as our keyword phrase because "self storage" and "self storage near me" produced results in Southeast Kansas which doesn't have the population density to return enough sample advertising. At the time of this writing, the companies listed are neither clients nor competitors of clients.

Mistake #1: Using Title Case
Position 1 (Desktop): SoCal Self Storage SoCal is doing a number of things really well here. For starters, they are clearly identifying themselves as locals by saying "Los Angeles" in the headline, the display URL, and in the description under the Moving Truck sitelink, as well as having a local 310 phone number. They avoid the arms race of hyping discounts and they require a phone call to find out about specials. Their offer of a free move-in truck is smart, but could be better incorporated. But painfully, they use hard-to-read Title Case in the headlines and descriptions. "Take Advantage Of Our Moving Trucks Today" is much harder to read than "Take advantage of our moving trucks today"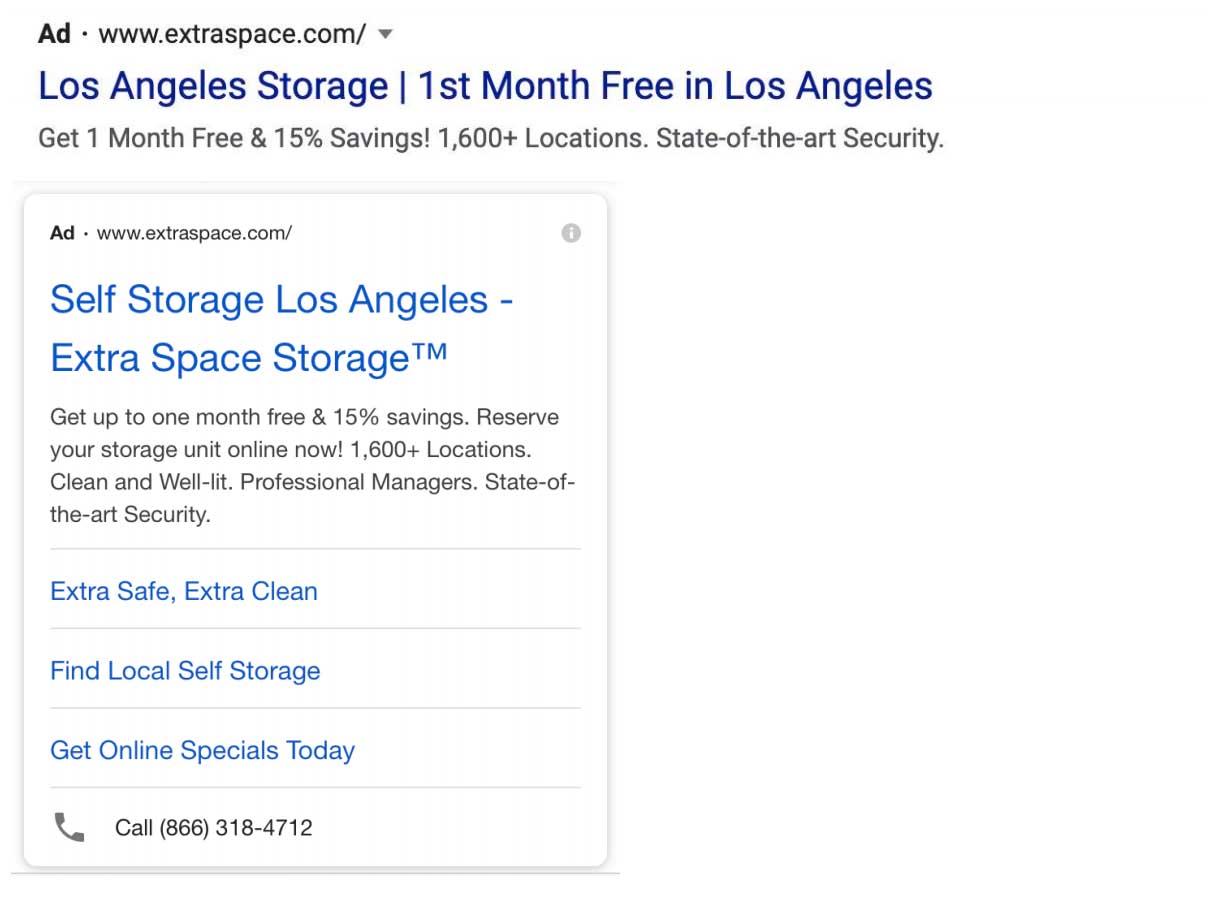 Mistake #2: Failing To Be Local
Position 3 (Desktop) and Position 1 (Mobile): Extra Space Storage Extra Space is 180° from SoCal Self Storage in terms of localization and from StorQuest (below) in branding. While the headlines clearly keying off the "Los Angeles" search term or geotargeting (twice in the desktop version!) literally nothing else in the ad references L.A. The 866 phone number and the 1,600+ locations are dead giveaways that Extra Space is a national chain and the focus of the ad is the uninspiring 15% savings.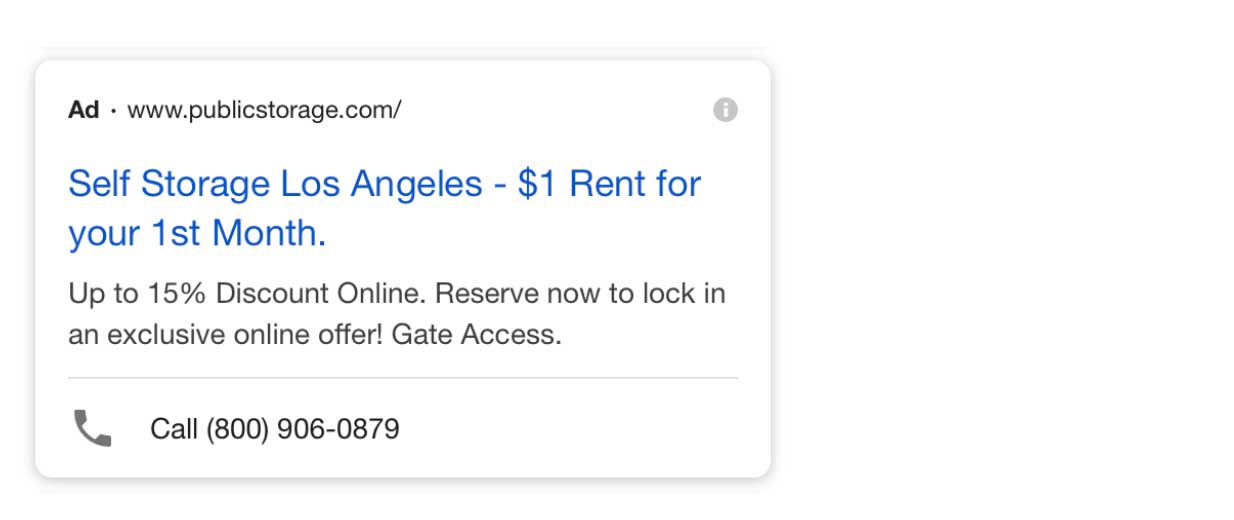 Mistake #3: Over Reliance On The Same Offers
Position 4 (Desktop) and Position 2 (Mobile): Public Storage Position 5 (Desktop): Life Storage Remove the names and change the phone numbers and Public Storage, Extra Space, and Life Storage (below) are nearly identical, down to the same 15% discount and first month free. Is this how high school teachers feel when three students turn in the same term papers?

Despite having the same free/15% offer as Public Storage and Extra Space, Life Storage does make an effort to stand out by including ratings and sitelinks. Cleverly, they use "Storage Units Near Me" which is a popular search term.

Mistake #4: Mindless Repetition
Position 6 (Desktop): CubeSmart In addition to being one of the worst offenders when it comes to using Title Case, CubeSmart stands out for mindlessly repeating the same phrases. "CubeSmart® Self Storage | Los Angeles Self Storage", "Reserve Online! Reserve a Storage Unit Online…", and "Wide Selection…Wide Variety" are clearly indicators that they have nothing else to say.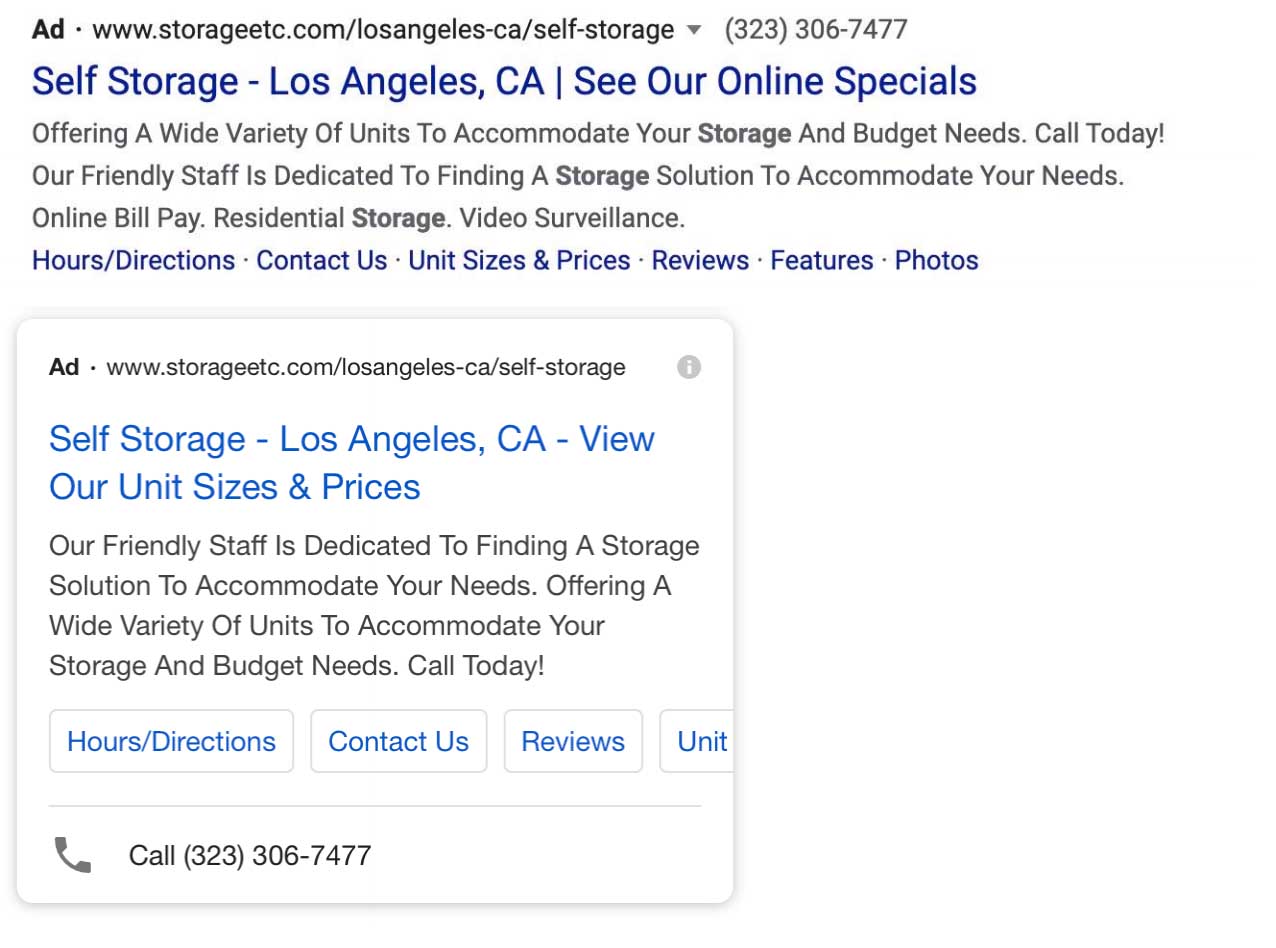 Mistake #5: Overreliance On Technology
Position 7 (Desktop) and Position 5 (Mobile): Storage Etc. Google has tools that will randomly combine copy to form new ads and then test the variations against each other. It sounds great in theory, but this appears to be a failure of that technology. Both of Storage Etc.'s ads have the same redundant phrasing about storage solutions that accommodate renter needs, but they list them in the opposite sequence.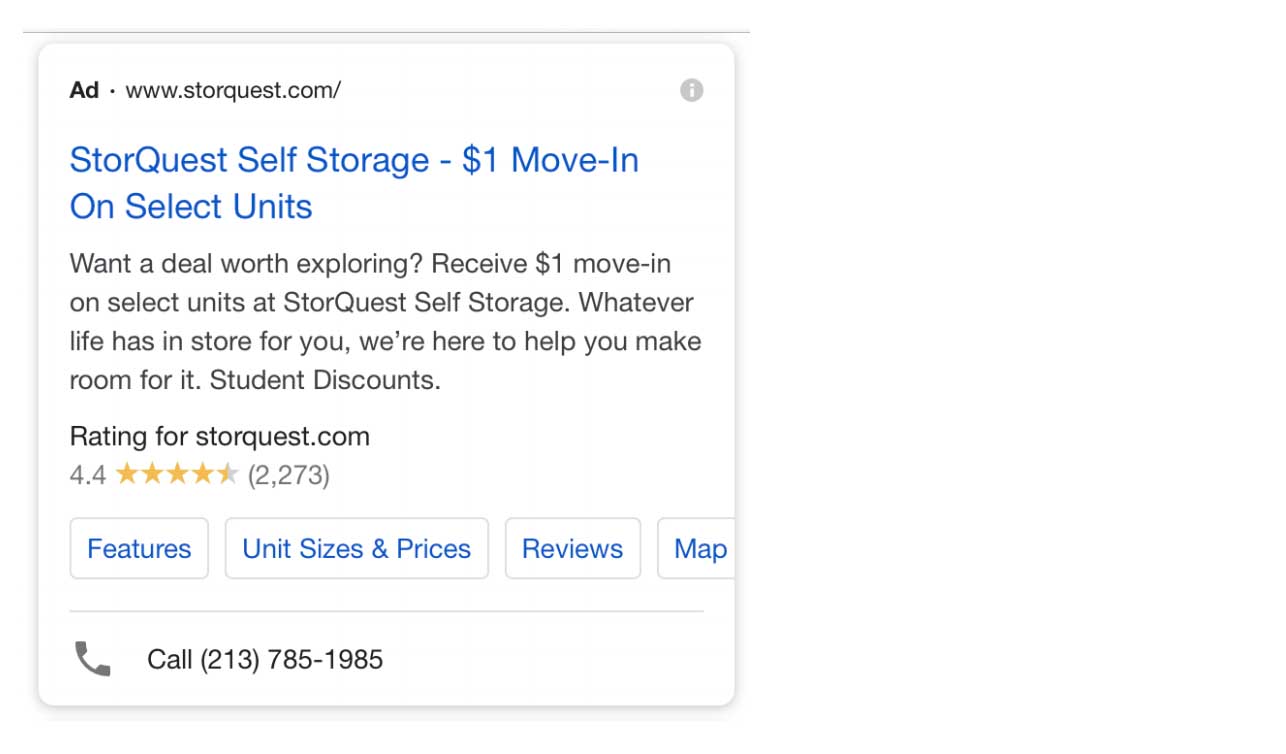 And A Really Good Ad… Position 2 (Desktop) and Position 4 (Mobile): StorQuest StorQuest has the most interesting ads of the cohort because they follow strong branding guidelines. Unlike others, they're actually interesting to read and benefit-driven, avoiding laundry lists of features and the dreaded Title Case. They do use a local phone number, list great reviews, and have a simple $1 offer which they set up elegantly.
ABOUT:
Angles, Inc. is a Los Angeles-based digital marketing agency established in 2010 by Paul Angles, the recipient of the earliest patent on PPC (Pay Per Click) advertising networks, filed in January 1996. Angles, Inc. provides expert advice and services in Google AdWords and Facebook advertising, LinkedIn lead generation, marketing automation, authority building and Search Engine Optimization. Check out https://www.angles-inc.com/ or email Colin@angles-inc.com for more information.