Original Story by Bungalower.com
Plans to convert a bowling alley property into a three-story personal storage facility are one step closer to reality, despite a number of residents voicing discontent.
The owners of the site, Colonial Bowling Lanes, Inc. located in downtown Orlando FL area, filed a Master Plan request for a phased development on the 2.46 acre site, with the first phase including plans for a three-story personal storage facility – a use which is permitted under the current AC-3 zoning designation. The facility would be hosted by Titan Primrose Self Storage (operating as an ExtraSpace facility), and the plans were recommended for approval but subject to a number of conditions suggested by the city's staff.
The applicant was represented at the meeting by Miranda Fitzgerald, Esq., who provided a brief summary of the request and noted that the project would be "a highly secure facility with interior and exterior cameras" and that it would "… go through the appearance review process in order to make it an attractive facility."
A number of community members spoke in opposition of the project, including one who who gave a short PowerPoint presentation of how the bowling alley is more of a community center for her and the community.
Other citizens spoke up to address areas of concern such as:
The storage facility could become a nuisance, attracting criminal activity.
Concerned for the safety of the children that walk through that area to attend school.
Many expressed their frustration that such a beloved part of their community (the bowling alley) would be replaced with a storage facility.
Over two years ago Bungalower published news of the teardown, which sparked some pretty interesting comments on their page, as shown below.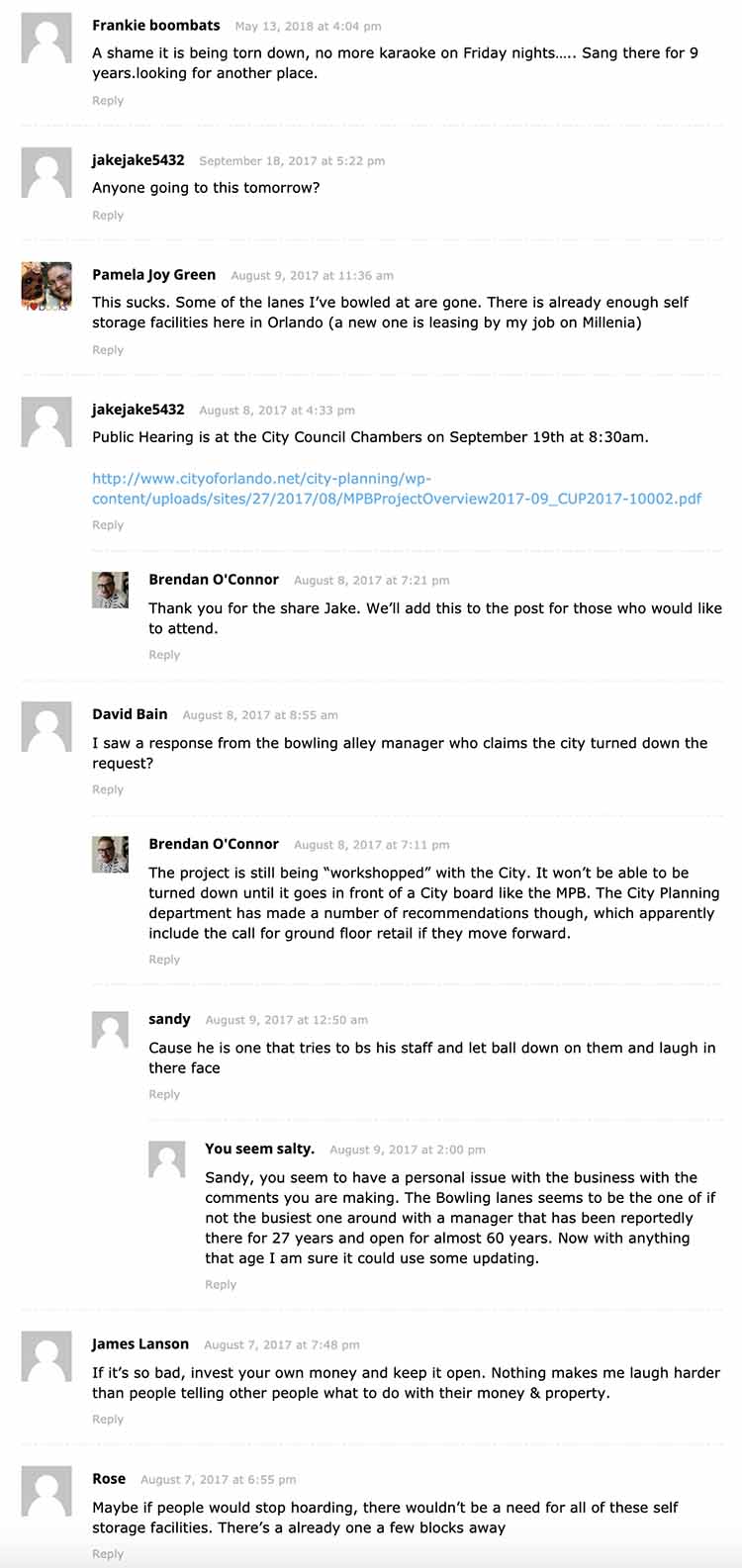 MPB and City Staff requested that the property owner must remove all of the recycling donation bins now on the property, architecture must be in line with the "Milk District character," emphasize the retail component and evaluate the need for additional lighting. They also incorporated the elements in Litchford's aforementioned letter:
Require that a sidewalk along Primrose be built as part of the Phase 1 construction.
Add a requirement for the post-demolition condition of the vacant land, which is identified as Parcel 2, including the complete removal of the foundation and installation of grass and sod on the vacant land area.
An appeal that was filed against the project has since been withdrawn, following the amended application that included the above enhancements. The next step for the project is to go through an appearance review meeting with City Staff to ensure the above revisions have been considered and worked into the plans.
There are no more public hearings scheduled for this project as it moves forward, so it will be interesting to see how strong public opinion can hold against a project of this size.