We are excited to announce the launch of our brand new Alerts and Alert Management feature. Alerts is a brand new addition to the Radius+ platform that helps users to stay on top of market changes. Users are able to create three types of Alerts - Pricing, Inventory and Facility. We wanted to make this feature as easy to use as possible, so we included a bell symbol that users can click anywhere on the app to generate their own customized alerts. Alternatively, users can generate alerts by clicking on Alert Manager on the dashboard located on the left hand-side of the Radius+ application. Users' personalized notifications will continue to be sent until they are deleted or disabled. This new feature is perfect for users who want to stay ahead of the market and make sure they don't miss any opportunities.
Pricing
Pricing alerts are alerts which users can create to track any changes in pricing. There are five alerts which can be created through pricing -
Increases
Decreases
Increases or Decreases
Less Than
Greater Than
The Radius+ user will be able to track any unit sizes and feature combinations meaning that they will never miss a price change again. The user will be able choose all or any facilities within a 1, 3, 5 and 10 mile radius within their desired trade area. As well as specify the type of pricing they wish to be notified by, whether this be web or in-store. Furthermore, having the possibility to track the type of pricing over the last seven days, such as average, high, low or latest ensures the user can be notified from their desired criteria. To allow users as much flexibility as possible, users can define the chosen amount in either dollars or percentage.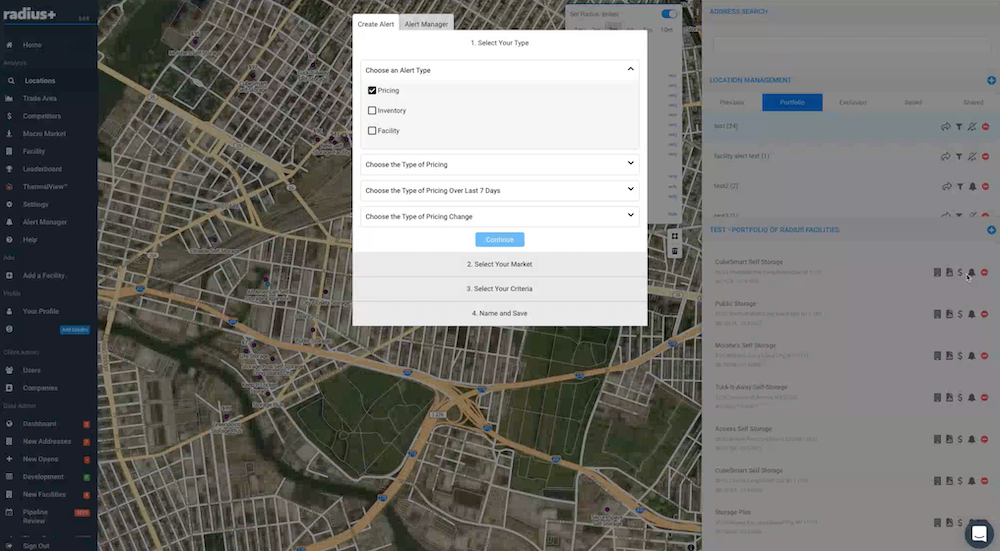 Inventory
Inventory alerts are alerts which users are able to create to track any changes in inventory. Users will be able to define the type of inventory change -
Added Unit Type
Removed Unit Type
Added or Removed Unit Type
The user can track any unit size and feature combination in a 1, 3, 5, and 10 mile radius and choose all or any facilities within that trade area.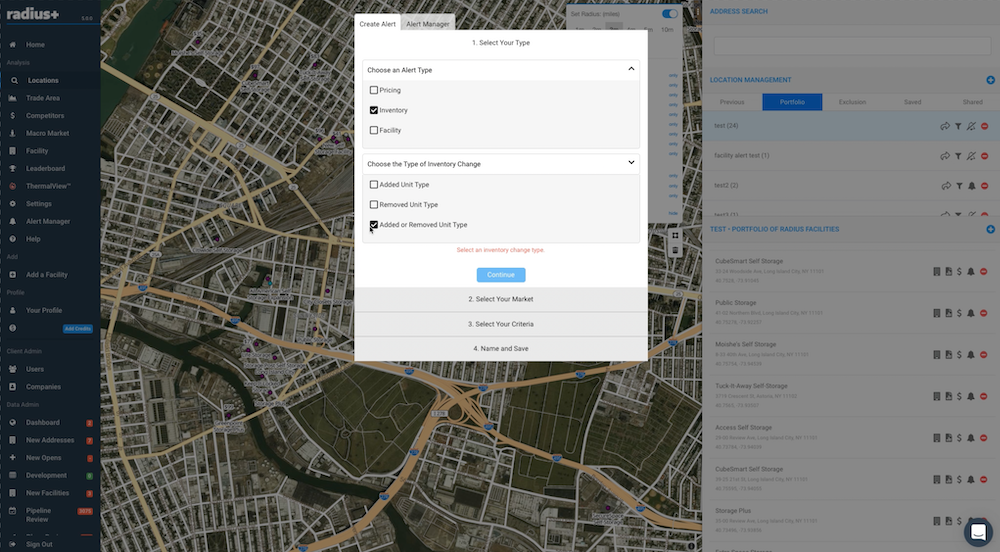 Facility
With Facility alerts, users are able to create alerts which track any new development projects and new facilities in their desired trade area. With the option of choosing any pipeline status to track -
Planning
Permitted
Under Construction
Completed
Expansion
Users will be able to be notified on any change within their criteria and can choose between 1, 3, 5 and 10 mile radius.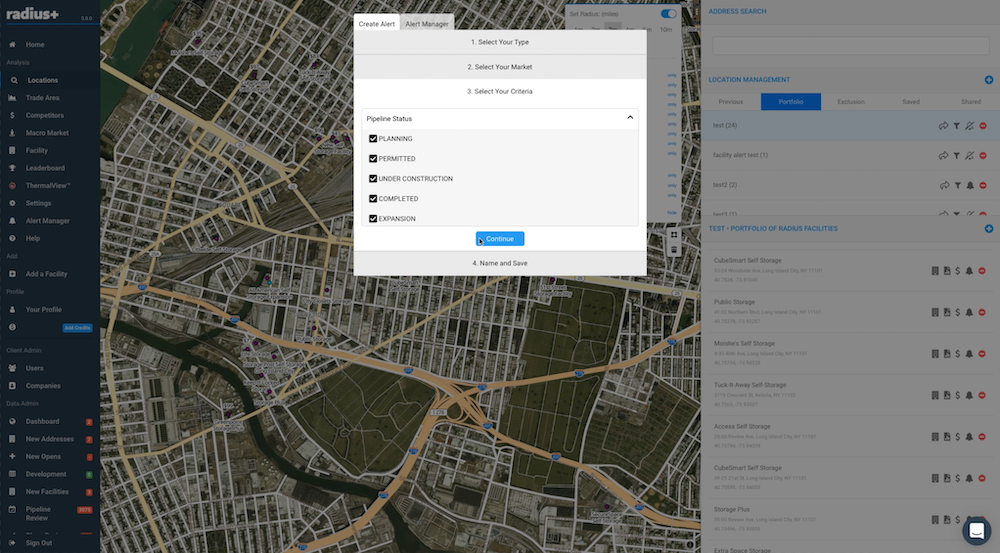 Review Your Alert
Users will be able to read a summary of what they have set for all Pricing, Inventory, and Facility alerts before saving them. This gives the user a clear indication of what they will be alerted about and allows them to double-check that they haven't forgotten to track a particular feature.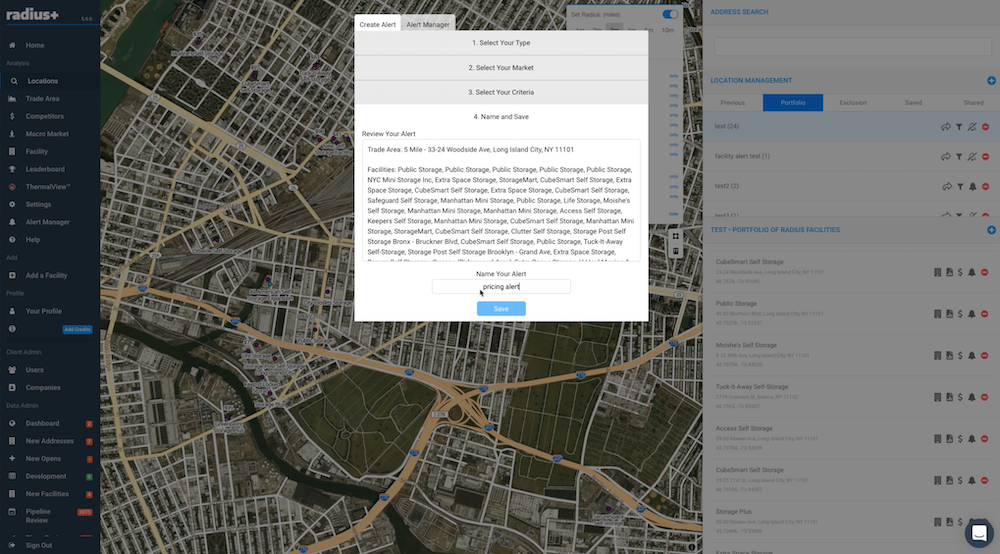 Alerts Manager
Users may view notifications and change all of their existing alerts with the Alert Manager tool. Users will be able to modify and delete their alerts, as well as enable and disable them. Users can also view notifications for their alerts and navigate to the facility profile page of the facility that they have created the alert for.
An alert can be created anywhere on the app by clicking on the bell icon or by clicking on the 'Alert Manager' on the dashboard. This allows for a clear section to navigate to when users are wanting to alter their alerts.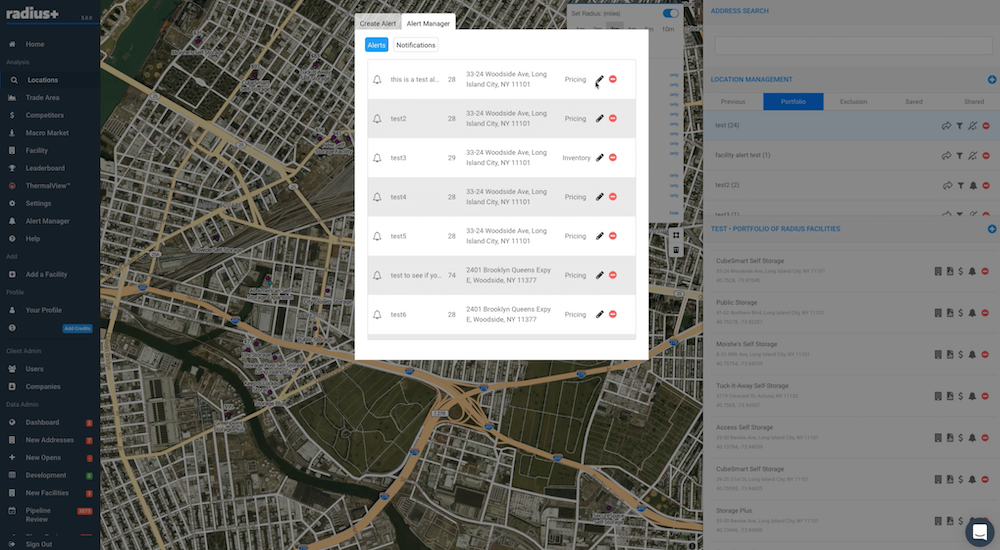 Notifications
Users are able to access their notifications on Alert Manager. Additionally, to ensure users do not miss their alerts, they will also be notified via email.
Below is an example of notifications within the Alert Manager -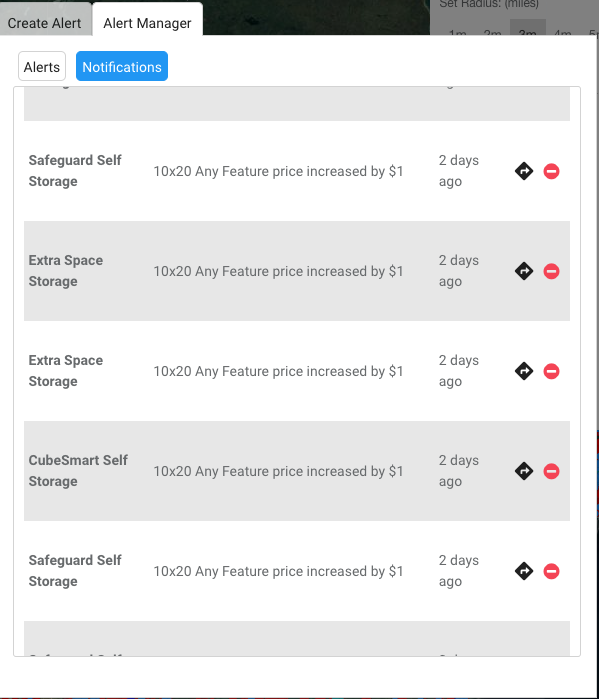 Nikki Lee, Product Manager gave her insight of the brand new Alerts function -
"Alerts is a new way for our users to keep track of any changes in the market. With our new Alerts feature, you'll be able to create pricing, inventory, and facility alerts. Our alerts allow users to keep track of price changes, inventory changes, and new facilities in any market. You can customize your alerts to track any unit size and feature combination. You will be alerted of any notifications by email and the "Notifications" tab on Alert Manager.
Alert Manager is a tool where you can edit, delete alerts and view notifications. To create an Alert or to access Alert Manager, click on the bell icon found in the Locations, Facility Profile, and Competitors page. You can also access Alert Manager by clicking on "Alert Manager" on your dashboard located on the left-hand side of the Radius + application. Visit our Help Center for more instructions on navigating through this new feature or feel free to reach out to the Radius+ team for help."