TEMPLE, GA, NOVEMBER 9, 2020 – Janus International Group ("Janus"), the leading global manufacturer and supplier of turn-key building solutions and new technology for the self storage industry, announces the opening of Green Storage's fourth smart self storage facility in Sweden in under 14 months.
After building their first self storage facility in April, 2019 and being the first to bring a smarter, more convenient and secure storage solution to Sweden, Green Storage opens their fourth smart facility located in Bromma, Stockholm in just 14 short months. The 500 unit facility is located at the intersection of Ulvsundavägen and Norrbyvägen at Bromma Airport, with two more facilities currently under construction.
Mats Steijner and Stefan Nilsson, Owners of Green Storage comment:
"We believe we have a good understanding of what people really want - and that's simplicity. Today, most people spend a large part of their lives on their mobile phones and taking advantage of the self-serve convenience that so many other industries offer. People should be able to do the same with storage."
Partners Mats Steijner and Stefan Nilsson have a 20-year background in the self storage industry, and sought to bring their expertise to new heights with the development of Green Storage. "From day one, we said that Green Storage should be simple, convenient, and smart" Steijner commented of this new facility.
Green Storage Bromma offers the entire customer journey to take place from their mobile device. From selecting the unit, contract signing and payment to immediately receiving a digital key providing access to gates, man doors, and elevators, all the way down to the individual units. Green Storage's primary focus is on making everything as simple, smart, and sustainable as possible for their tenants. With the Nokē® Smart Entry system, there's no longer a need to purchase unnecessary expensive locks, only to be cut or thrown away later. Instead, tenants can easily download the custom branded mobile app to digitally access the Bluetooth, electronic smart locks while ditching the hassle of lost keys and forgotten gate codes – simple, smart and environmentally friendly.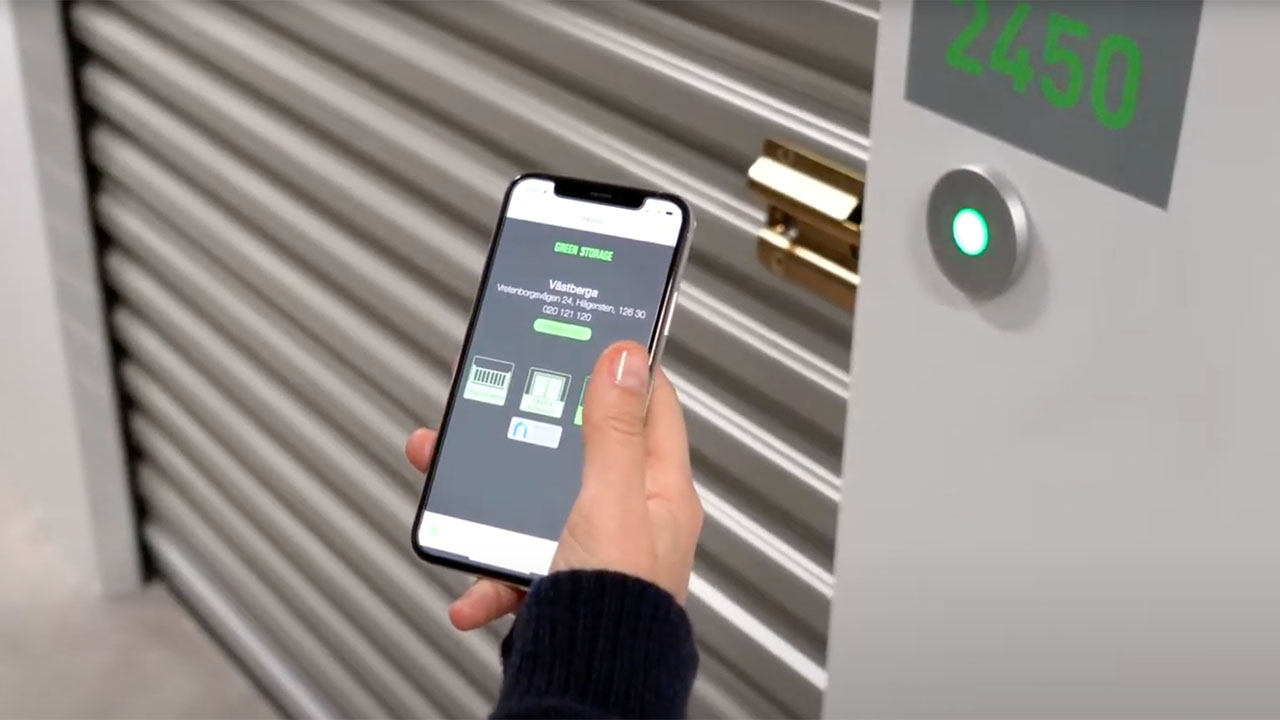 The facility is truly 100% digital and with this high level of automation, tenants are treated to an enhanced customer experience. Steijner and his team can remotely monitor facility and unit activity and site managers aren't bogged down with manual processes like lock checks and overlocking, collecting monthly payments, or physically unlocking units for new tenants to move-in. With their property management software integrated with the Nokē Smart Entry system, these labor-intensive tasks are done automatically.
"While our facilities still have managers on site daily, the smart entry system simply enables us to do more with less" says Mats Steijner, Partner at Green Storage. This smart entry solution also keeps delinquent tenants from accessing the facility and their unit until their account is paid in full, at which time access is automatically restored.
By offering a completely contactless 24/7 solution with the Nokē Smart Entry system, Green Storage not provides enhanced security and customer convenience but a safer, more secure and sanitary self-storage experience during COVID-19 and beyond.
Since launching the Nokē Smart Entry system in 2018, the Janus team has installed the smart security solution at 200+ facilities, 8 countries, and worked with operators of every size to help them modernize their facilities.
To learn more about the Nokē Smart Entry suite of products and features click here.
ABOUT JANUS
Janus International Group, LLC (www.janusintl.com) is the leading global manufacturer and supplier of turn-key self-storage building solutions including: roll up and swing doors, hallway systems and re-locatable storage units, and facility and door automation tools. The Janus team operates out of several U.S. locations and five locations internationally. Janus is owned by Clearlake Capital Group, L.P. a CA based private equity firm.