Radius+ is excited to announce it is adding the 2020 Census information to our demographics data set. The U.S. Census had previously been delayed from COVID-19, but they will now be releasing their data for public consumption. User's can utilize these data sets in their analysis through the Trade Area tab. The 2020 Census information is a public data set and will be available to all Radius+ users on the platform.
Users also have the option of paying for 2021 demographics data as well as 5 year demographic projections from our 3rd party data partner ESRI Demographics. Radius+ pays for access to these features per user which is why they are offered only to users on our Enterprise subscription. Users can notice the integration of the updated demographics on the Trade Area tab.
Figure 1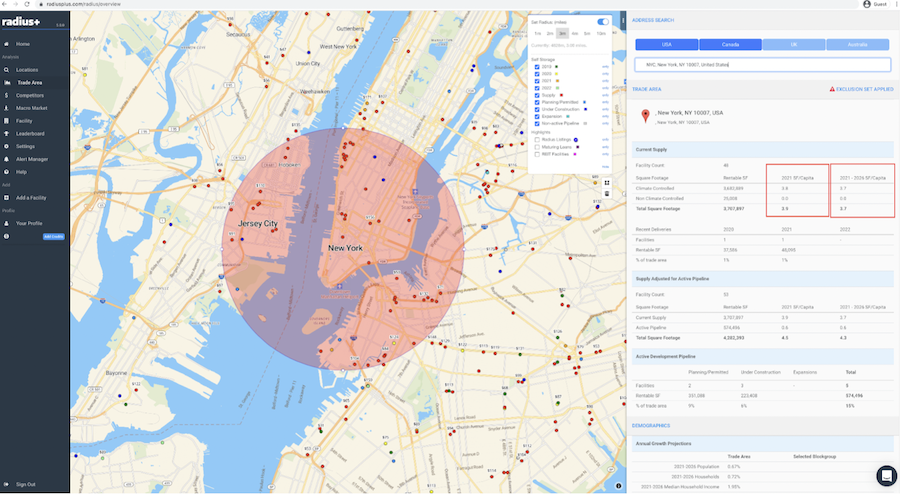 Note: With the ESRI Demographics feature enabled- the supply data such as square footage, development pipeline remains the same, but the calculations leading to Square foot per Capita is utilizing the more recent demographic data from ESRI demographics.
The main differences between the default demographics and ESRI is that with ESRI users will have access to the most recent demographics data, as well see 5-year demographic projections in the markets they are looking in.
We will be integrating the 2020 Census information for all our users as soon as it is available. If the most up to date demographic data is important to your workflow, feel free to reach out to discuss next steps!