Self Storage Location: Site Selection for Self Storage Facilities
I walked into the Inside Self Storage convention in Las Vegas at the beginning of 2023, excited to meet people in my new industry and to see how I could fit into the vast self storage market. I was expecting a suited-up menagere of deep pocketed brokers and dealers. Being well versed in the software and airline trade-show circuit in the APAC region, I thought I was prepared - I was not.
In Las Vegas I was introduced to one of the most open and enthusiastic groups of grassroots entrepreneurs, who I recognized as my neighbors, friends and even relatives. Over 50% of self storage owners and operators come from families like mine - people who are closely tied to their community and rely on their paychecks to provide. You've decided to stake your claim on your portion of the almost 2 billion square feet of existing self storage market - or you're in the planning stages of building a self storage facility - part of the 52+ million square feet of storage expected to come to market in 2023. How are you choosing your site? I'd be willing to bet it has just as much to do with proximity to your home and community as it does the stats, figures and demographics.
Characteristics of a Great Self Storage Location
In the self storage industry (and many others), location is vital to your eventual success. We all know this - but you live and work in your hometown or adopted community and need (and want) to be close to your project. There are several factors to consider when ensuring you are close enough to home, and want to ensure your self storage design layout will be approved by the powers that be. A recent ISS whitepaper titled "Maximizing Self-Storage Development and Design" delves deeper into the most important factors to consider when choosing a self storage location:
Local Market - perform an analysis to map out any existing or potential facilities in the area, and look for areas that are underserved.

Visibility - ensure your customers find you easily by making sure your facility is visible from a major road - any major road. Consider how unhappy you are when you navigate to a business only to (not) find it hidden down an alley or not clearly marked from the street. Enough said.

Proximity to Renters - over one-fifth of renters are using self storage facilities and 65% of self storage renters have their own garage.

Inside City Limits - while I feel safe hypothesizing many storage owners and operators live near or outside city limits (we like to get a deal on land!), building outside the city limits presents issues with online search or pay-per-click advertising, not to mention visibility. Click here to learn more about how much land you need to build a self storage facility.

Security - it's critical that you build or buy in a low-crime area with plenty of visibility, to ensure renters are/feel safe when they visit your site.

Drainage - choose an area well outside of floodplains, with sufficient drainage infrastructure (or the space to build drainage infrastructure in).
Self Storage Near Me: Finding Your Ideal Market
Just because we will be building near our own community doesn't mean location isn't vital. Each city and even neighborhood has its own unique set of demographics that will be a great source of information when choosing a location for your self storage facility. Choosing the wrong storage location in your own city or town could set you up for failure, and you'd be surprised at what you DON'T know about the community you call home.
Let's take a look at Plano Texas, where you can find self storage in secondary markets and near your own community - or a community of similar size!
Local Self Storage Market
"One of the best places to live in Texas," according to Niche.com, Plano has gotten a lot of attention due to its proximity to Dallas, schools, housing, nightlife and diversity. Using Radius+, we can see that Plano isn't exactly drowning in self storage facilities. We can also see that the projected 3-year population growth is going to change the landscape and demographics of the area - an important element to be aware of when getting into self storage.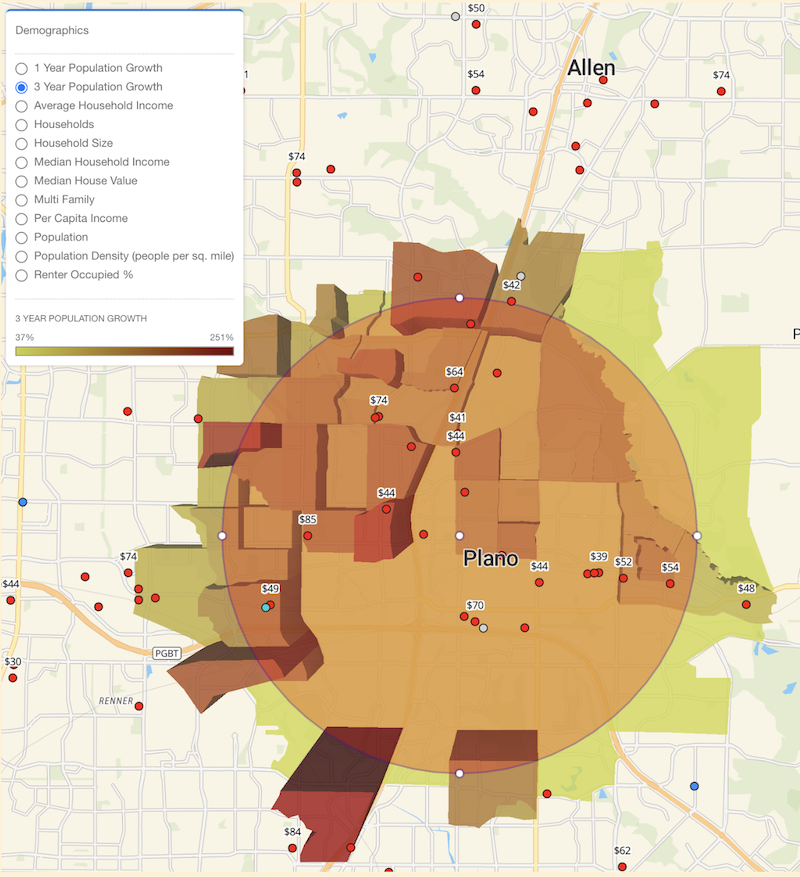 Self Storage Visibility
To determine how visible your facility will be requires boots on the ground - but start with a search using Google Maps. We can see here that Plano is essentially bisected by two major highways, the President George Bush Turnpike and Highway 75. We can also see a clear division between residential and commercial areas, areas with apartment living and the University of Texas at Dallas - all great signs when considering zoning and visibility.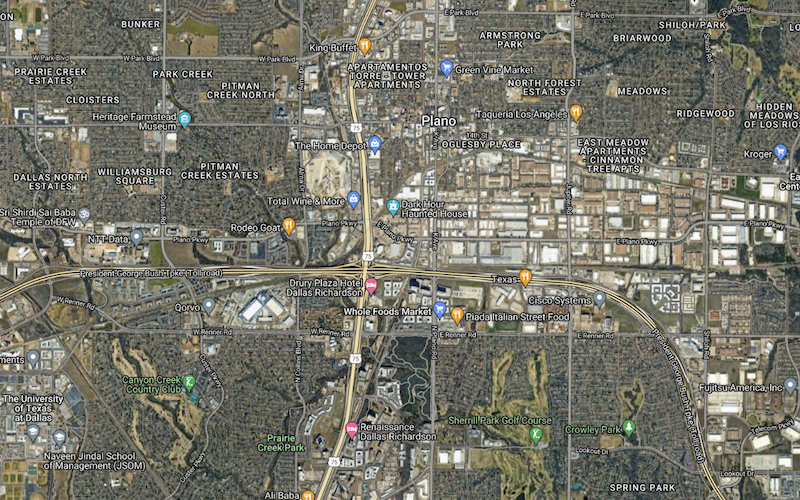 Proximity to Renters
Going back to Radius+, we can see that renters occupy a good portion of southern Plano, extending along the highway through the center of the city, with a few rental areas in the northern section. In the entire trade area, we find 16,178 renters, equaling around 43%. When I rolled over the area highlighted in green below, I discovered that this area has the highest concentration of renters (96% renter occupied), being served by 4 self storage facilities:
Life Storage - Plano with 92,780 rentable square feet
AAA Self Storage Plano with 31,834 rentable square feet
Public Storage with 46,657 rentable square feet
Public Storage with 57,250 rentable square feet
For more information and a detailed map of the Plano area, the City of Plano has published a Zoning & Recent Development Activity map online.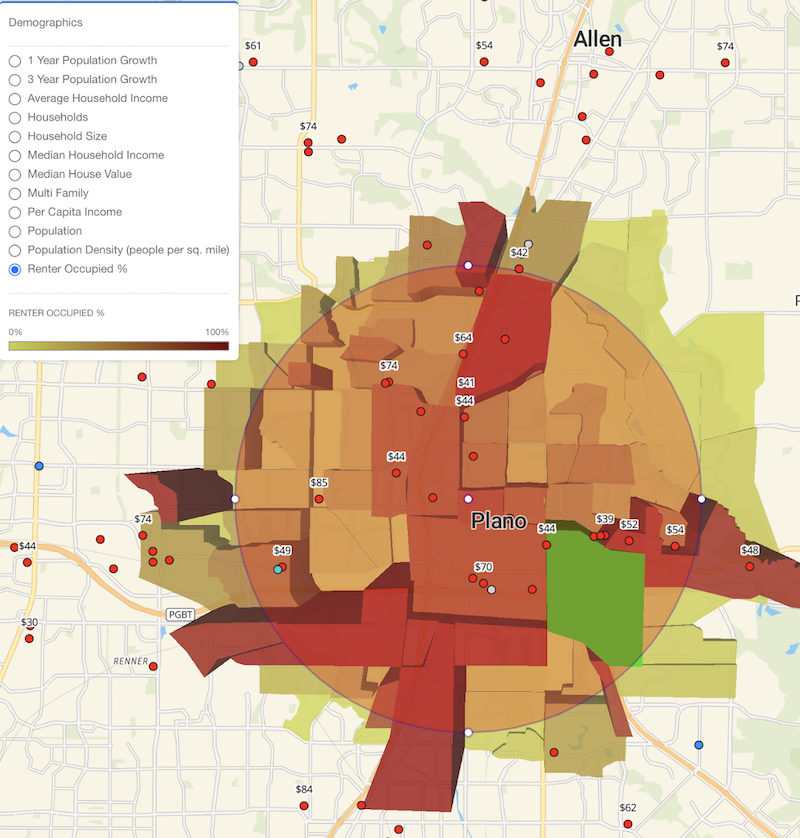 Self Storage Security
As we mentioned above, it's critical that you build or buy in a low-crime area, to ensure that your customers don't lose their things due to crime, and they feel safe and comfortable visiting your facility. The City of Plano has a violent crime rate of 1.58 per 1000 people, and a property crime rate of 18.70 per 1000 people. The Pew Research Center says that the average U.S violent crime rate per 1,000 people is around 16.5, while the national rate for property crime is around 90.3 per 1,000 people - making Plano a relatively safe place to build!
Inside City Limits
A quick search for the Plano city limits returned with discouraging news. Due to boundaries with other municipalities and almost 100% development within city limits, building within the city limits will be difficult and expensive. This presents us with an opportunity to explore more affordable land, outside the city limits, with easy access to our area of choice with the high rental occupancy. Luckily, the area of the city we have zeroed in on is zoned for things like "light commercial," "retail," and "light industrial," meaning the zoning is in your favor and you are likely to find larger parcels of land - perfect for a storage facility.
Self Storage Drainage
The fastest way to get preliminary information on flood-prone areas is to visit Plano's city website, where they tell us that most areas of Plano have never experienced a 100-year flood event, meaning there is a 1% annual chance of flood. The site does note that while the chances of flooding are still low, it is advisable to carry flood insurance on all structures - something to consider when calculating the projected cost of insurance for your facility. Visit the Radius+ blog to delve deeper into the issue of flooding and self storage locations.
Self Storage Facility Site Selection: Final Thoughts
It has been years since we've seen the type of grassroots entrepreneurship that the self storage industry has inspired in the USA. Self-storage owners and operators are the pillars on which we build our communities - we have roots, families, serve in local governments and care about our neighbors.
Choosing a location for your project isn't limited by your local area! With all the data at your fingertips you can easily find the best storage location, without going too far from home - and become more plugged into your community as well. For more information on how to find the perfect location for your self storage facility, check out Radius+, the self storage industry's most comprehensive source for granular demographic information across the USA.