Article originally published on Sparefoot.
Offering Help During a Crisis
From the compassion perspective, several self storage operators are temporarily offering free or discounted units to college students who've been displaced by coronavirus-driven school shutdowns.
As part of its coronavirus response, Salt Lake City, UT-based self storage REIT Extra Space Storage has instituted a grace period for late fees and has frozen rates for current tenants "regardless of the pressures of demand and occupancy."
Phoenix, AZ-based U-Haul announced March 12 that it would provide 30 days of free storage to college students in the U.S. and Canada whose semesters have been disrupted by coronavirus.
"We don't know how every student is affected. But we know they are affected," John "JT" Taylor, president of U-Haul, said in a news release. "More and more universities are giving instructions to leave campus and go home. Students and their parents are in need of moving and storage solutions."
Similarly, Cleveland, OH-based Compass Self Storage said March 13 that it was offering one month of free rent to students and families affected by the coronavirus.
"In this time of uncertainty where things are rapidly changing, Compass Self Storage wants to ease some of the stress by providing storage space at a reduced cost to those in need," Todd Amsdell, president of Compass, said in a news release.
Surging Stranded Students
With a sudden surge in demand from college students, at least some small-town storage facilities have run of out units. Ideal Self Storage in Lewisburg, PA told a local news outlet that all 300 units filled up quickly after Bucknell University sent students home.
In the Chicago, IL market, valet storage provider Doorage Storage Solutions said it was focusing only on storage for college students and postponing non-student storage and cross-country moves until after April 1. On top of that, the company said it was extending free storage pickups and 10 percent storage discounts to college students whose housing plans had been scrambled.
"Our team will work around the clock for as long as we need to ensure no student is stuck with no place to put their belongings," Sean Sandona, founder and CEO of Doorage, said in a post on the company's website.
Coping with the Coronavirus Threat
As it relates to caution, self-storage companies and organizations are taking a number of immediate steps amid the spread of the coronavirus.
For instance:
The Inside Self-Storage World Expo said March 13 that it has delayed the Las Vegas conference until later this year. "Health and safety have been our top priority, and we feel this will provide the best experience for everyone involved," the expo said. All attendee registrations and exhibitor bookings will be transferred to the rescheduled conference. The expo was supposed to be held April 14-17.
On March 5, the Self Storage Association (SSA) canceled its 2020 Spring Conference and Trade Show. It was supposed to take place March 17-19 in San Antonio. The association said it was issuing full refunds of registration and sponsorship fees or applying those fees to its fall conference. So far, the SSA has not cancelled any other events.
Compass Self Storage said it had ramped up cleaning and sanitizing of its facilities, and had reminded employees about the importance of frequent handwashing and of staying home when they're sick.
Citing the coronavirus, Cushman & Wakefield pushed the deadline for offers on a six-facility self-storage portfolio in North Carolina to March 24.
XSpace Group postponed an April 3 groundbreaking for its first storage condo project, located near Austin, TX.
One Company's Coronavirus Strategy
Sandona of Doorage told the SpareFoot Storage Beat that as a result of its student-only response to the coronavirus, the company has been cutting costs to prepare for a four- to eight-week business slowdown. Also, the company postponed its mid-April debut in six new markets.
"This is an extremely fluid event," he told the SpareFoot Storage Beat, "and when we feel the situation has stabilized, we will move forward with our new-market launch."
Despite the coronavirus challenge, the outlook for Doorage is good, Sandona said.
"With the launch of nationwide delivery last year," he said, "we have a large number of cross-country deliveries already scheduled that will keep our teams busy and revenue flowing."
Optimistic Outlooks
In a March 14 letter posted online and emailed to clients and colleagues, Adam Schlosser, senior director of National Self Storage Group at Marcus & Millichap, outlined a mostly optimistic coronavirus-related assessment of the self-storage industry:
Investors' appetite for self storage "remains positive."
Liquidity for deals "remains cheap and robust."
CMBS markets are "available and healthy."
Lending for construction projects "has tightened substantially."
The consensus among industry leaders, Schlosser wrote, is that stabilized facilities are well-positioned to weather the short-term and midterm economic impacts of the coronavirus.
"Concern is elevated for lease-up facilities in overbuilt markets already on fragile footing," he added.
In a report published in March, Marcus & Millichap predicted demand for self-storage units would "experience little if any impact from the coronavirus." The company noted that the average U.S vacancy rate closed at 9.9 percent in 2019 and is expected to inch up to 10 percent in 2020 as the new-supply crunch wanes.
Ki Bin Kim, managing director of investment bank SunTrust Robinson Humphrey Inc., told the Wall Street Journal that when it comes to the coronavirus pandemic, the self storage industry benefits from its low-touch business model.
"It doesn't rely on foot-traffic volume, unlike other real estate such as movie theaters or retail that depend on people being comfortable in crowded areas," Kim said.
Choppy Waters Ahead?
But although the self-storage sector has performed well recently, that doesn't shield it from risk, according to a report released March 11 by Fitch Ratings and cited by the Bisnow news website.
The Fitch report notes that leasing of self-storage units might suffer as coronavirus-related disruptions in supply chains possibly reduce demand from business tenants.
"On the other hand, since consumers tend to be skittish about moving stored items during a health crisis, that might help balance out weaker demand on the part of commercial customers," Bisnow said.
Operators Should be 'Very Concerned'
In a more stark appraisal, Rick Beal, co-founder of Atomic Storage Group, a self-storage management and consulting firm based in Port St. Lucie, FL, believes self-storage REITs and other owners and operators should be "very concerned" about the coronavirus impact.
"Our industry revolves around the change in an individual's life. We are in a time of uncertainty. When that occurs, people tend to hold back. People aren't moving or seeking new jobs or building new homes," Beal told the SpareFoot Storage Beat. "People want stability in times of turmoil, not change."
It's naïve to think that the self storage industry won't be set back by the coronavirus pandemic and its ripple effects on the economy, Beal said.
"Everyone thinks they are great operator when the good times are flowing," he said. "Hopefully there will be more caution as we work through the upcoming economic issues we'll be facing."
'Too Rosy' Forecasts?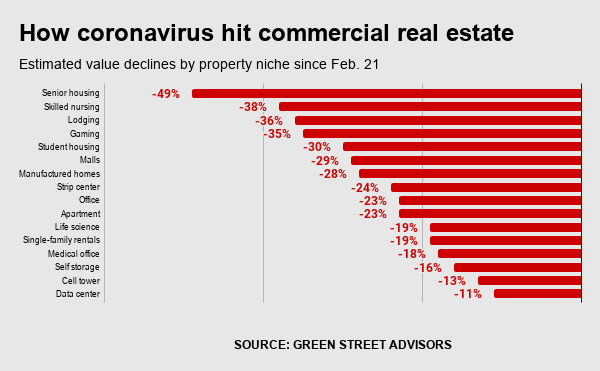 In a March 13 report, Spenser Allaway, lead self storage analyst at Green Street Advisors Inc., a commercial real estate research and advisory firm in Newport Beach, CA, tempered the measured optimism expressed during self storage REITs' recent earnings calls. Outlooks for 2020 suggest that most REITs expect the negative impact (such as declining revenue) from new supply to moderate through the year, potentially even flattening out by year's end, Allaway wrote.
"While management teams have unique and detailed insight into their respective businesses, these are still forecasts that could prove too rosy," Allaway wrote. "If results did happen to turn out worse than the cautious optimism on display this past earnings season, it would not be the first time in REIT history that the cumulative impact of supply was underestimated."
Green Street Advisors also reported that commercial property values have dropped 24 percent since Feb. 21 as a result of the viral outbreak. The finding, based on REIT valuations, saw self-storage values decline 16 percent.
Wait-and-See Attitude
Bill Bellomy, principal of Bellomy & Co., an Austin, TX-based real estate brokerage firm whose specialties include self storage, said storage professionals generally are taking a wait-and-see stance regarding acquisitions. That's because it's more difficult to perform in-person due diligence now, he says, and because many operators are preoccupied with simply running their facilities. Bellomy said his company is holding back on a few sale listings over the next couple of weeks and then will re-evaluate the environment.
"I'm optimistic we will look back on this as a scare that the government and private sector came together to solve in a few months' time. That being said, anything could change by the day," Bellomy told the SpareFoot Storage Beat.
From an operational standpoint, Bellomy believes self storage operators with a lot of tenants who "live paycheck to paycheck" will begin to see a rise in delinquent rent payments and late fees. This will put more pressure on NOI, he said.
But on a more positive note, Bellomy said: "As we all know, storage outperforms other asset classes in times of economic stress and certainty, and I don't see that being different for this crisis."
---
Story: John Egan
Thumbnail: Photo by frank mckenna on Unsplash