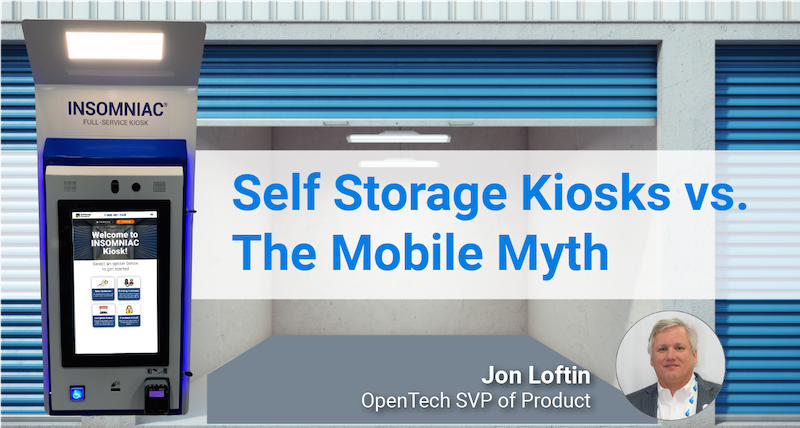 Can the mobile device in your pocket really compare to a self storage kiosk? I have heard some people say: "Why should I have a kiosk when a person can do everything from their phone?" Let's break down some of these myths.
Self-Service Kiosks Vs. QR Codes
The first idea many self storage operators have is to put a QR code or their facilities' website url on a sign to prompt people to rent online from their phone. Mobile is an important medium and you need to be able to interact with customers online and via mobile experiences, however, the time and place for those interactions matters. It is a different experience to use your phone on your couch or on-the-go for simple customer support versus trying to complete a full rental agreement standing onsite at a self storage facility. And as you know, the customer experience is a critical part of any interaction with customers.
A large percentage of self storage tenants are new users of the service and don't know what to expect or how to rent a self storage unit. According to the SSA Demand Study, 51% of all tenants visit the facility first when renting a facility. Should your first impression be a QR code or a kiosk where the potential customer can press a button and have a video interaction with a Storage Counselor to help guide them through the process? The SSA Demand Study also states that 31% of all potential storage customers find that having a person available is important. As we all know, even if there is a manager at the property, they are not in the office for a continuous eight hours with all the other duties that are required to run a self storage facility. In most cases, a facility manager is only in the office for half of the day. A kiosk that can offer Live Help via video chat solves the problem that a mobile phone or even a manager can't solve. As Will Rogers said, "You never get a second chance to make a first impression." What type of impression are you leaving on your potential and existing customers?
Self Storage Kiosks Capture More Drive-By Tenant Traffic
How does a person driving by your property know what to do? We already know this accounts for over half of your prospective tenants. Consider what catches your eye at a self storage facility, or how unwilling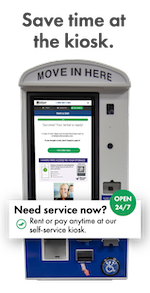 you are to approach a business that appears closed. If a tenant drives up to a property and only sees a sign with a QR code, will the potential tenant even get out of the car to read what the sign says? Will a potential tenant driving by the property know that the property is open? Facilities that have a storage kiosk have an added layer of digital signage that indicates to potential customers that the facility is open and available for business. What would draw your attention more? It is critical to the success of your business to market your facility so that customers know what you do and that you are open and ready to serve them. People are not attracted to signs, but they are attracted to displays.
Customer Experience is Key to Drive Self Storage Conversions
Let's assume your prospective tenants do see your sign and are willing to give it a go. Imagine this: You, a potential storage tenant, drive up to your facility, find the sign with the website address or QR code for your online rental portal. You fire up your phone, scan the picture and now you're at the page to rent a unit. Selecting a unit size is View of OpenTech equipment entering into facilityprobably easy – let's hope you know what size you really need and don't just pick a 5×5 because it's cheaper while you have a 20' U-Haul truck to unload. Next, you get to the lease process. Now you have to fill in your name, address, review and select insurance, enter credit card information, and read and sign the lease. I know that if I am on a website that requires a lot of data entry (which a lease requires) I would rather do it on a larger screen than 6.3 inches — which is the average screen size of smartphones as of January 2022. Can you do it? Of course, but it isn't a good customer experience.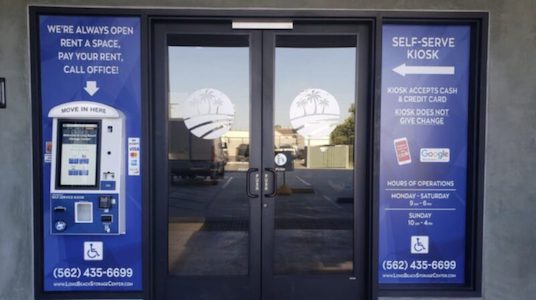 A self storage kiosk at a property solves these problems. If a customer has an issue, they can have a two-way live video session with a Storage Counselor who can answer questions, guide them to the correct size of unit that meets their needs and even take over the screen and complete the lease for them. If the customer wants to self-serve, they can do it on a large screen up to 31.5-inches. Kiosks with driver's license scanners also have several additional advantages for the operator and tenant. During the rental process, all tenant information such as name, address, city and state are automatically populated to save the tenant time during the rental process. Second, and maybe the biggest advantage with unattended rentals, by requiring the customer to scan a form of identification you reduce the risk of bad or fake rentals that only want to do bad things.
An interesting statistic from Adobe Analytics about Black Friday Statistics for 2021 found that conversion rates for desktop purchases on Black Friday rose to 6.4%. This is much higher than the 3.3% conversion rate for smartphones, and the majority of mobile purchases were for smaller items. Data about how consumers are actually making purchasing decisions can help self storage operators make better decisions on how to best rent space to customers.
Mobile Devices vs Cash-Only Self Storage Customers
While we would all like for our customers to use credit cards and sign up for auto pay, the reality is that a large percentage of storage customers are under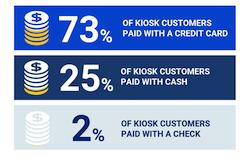 banked and either don't have25 percent of self storage kiosk customers still pay with cash access to credit cards or don't want to use their debit cards for fear of overdraft charges. According to the SSA Demand Study, 73% of all self storage tenants have a household income of less than $100K. When you force customers to only use a mobile device to rent a unit, you eliminate these types of customers. That might be your business model, however, the OpenTech 2022 Self Storage White Paper reveals that 25% of all customers still pay with cash. The industry has experienced record occupancy and high rental rates over the last several years – but it will not always be like this. The large public REITS have reported that they are seeing occupancy rates falling and that their ability to push existing customer rental increases (ECRI) is declining. With this potential shift on the horizon, are you willing to limit rentals to only credit card customers?
Drive Rentals and Revenue with a Self Storage Kiosk
Mobile phones either require good cell phone coverage or Wi-Fi access to perform a rental. Unless you have a cell phone tower on your property, storage facilities are not the best locations for good strong cell phone coverage. If you are going to rely on potential customers to use their phone to perform a rental at the property, you need to ensure that there is good coverage. With kiosks this isn't an issue since it is always connected and can allow the customer to self-serve or initiate a video chat.
Let's talk about a "typical" storage customer. According to Pew Research, as of February 2021 only 85% of the US population has a smartphone. This means that if a potential customer must use their own smartphone to rent a storage facility – you have automatically eliminated 15% of the population. If the 18 and over population of the US is 209 million people, you have eliminated 31,350,000 potential customers.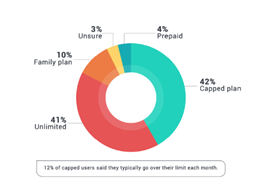 According to a recent CNBC article, only 41% of smartphone users have unlimited data. Are you sure that the other 59% of smartphone users will be willing to use their data plans to perform a rental? By placing a kiosk at your self storage property, this is not even a question.
One size doesn't fit all. If you have a small facility with a limited number of units, then requiring tenants to use a smartphone or call to schedule a meeting on the property to rent may work for you. If you want to drive more rentals and revenue at your facility, then a kiosk is the better option. That smartphone in your pocket is a great tool, but it doesn't offer the full-service customer support of a kiosk, and your customers will not think so either.
Speak to a storage pro today to learn how to implement a kiosk at your property, or view OpenTech's full line of INSOMNIAC kiosks today.

This article was originally published on OpenTech Alliance Blog
---
With over 25 years of experience in senior management roles in the self storage industry, Jon is one of the industry's leading access control experts. He has contributed to the success of Digi Tech International, Chamberlain Access Products Group and PTI. Jon joined OpenTech Alliance, Inc. in 2016 to spearhead the development of OpenTech IoE, an intelligent platform of smart connected self storage solutions.