The right marketing strategy is vital for self-storage businesses to survive and thrive. Your self-storage marketing strategy is the key to gaining new customers and fostering long-term relationships. With the right self-storage marketing strategy in place, you will be able to create awareness of your brand and the services you offer and build trust with the local community, which all play an essential part in increasing your revenue growth! This series has examined creating an online presence, content marketing, email marketing, and referral marketing. This article will cover special offers, also known as discount marketing, focusing on the benefits of offering special offers, the types of special offers you can provide, how to implement your special offers, and examples of successful special offers within the self-storage industry.
The Benefits of Providing Special Offers
Providing special offers and focusing on discount marketing can benefit all different factors of your self-storage business, from customer engagement to standing out from the competition. If correctly utilized, providing special offers can excel your self-storage business.
Customer Engagement
Customers are always looking for a bargain; in fact, according to Statista, in 2020, roughly 88% of consumers in the United States revealed they used some sort of coupon or discount code. This portrays the idea that they are a popular marketing tool that will interest customers, as they may ask questions and even talk between themselves and the wider community - which is perfect for you!
Increased Sales and Revenue
Your latest special offer at your self-storage facility may be the push an interested customer may need to rent a storage unit. Also, adding a time limit will create a sense of urgency and excitement among potential customers. Adding the aspect of the fear of missing out (FOMO) to your deal will tap into the emotive side of the customer, and they will likely want to ensure they get the deal before the time runs out.
Chance for your Facility to Stand Out
Suppose your self-storage facility offers a particular discount or special offer that a competitor does not provide. In that case, your facility will be more enticing to rent from over a competitor. An attractive special offer could also help increase word of mouth within the local community, meaning potential customers are talking about your facility over someone else's. The importance of providing special offers to stand out from the competition can be seen by this statistic - 93% of shoppers in the United States suggest that discounts and special offers are essential factors when deciding which brand to use (criteo).
Types of Special Offers
There are a variety of different special offers that you can utilize at your self-storage facility:
Offering a 'percentage off' discount is a well-known special offer businesses continuously use. The discount will still create excitement whether you use a percentage or a monetary value. Companies do tend to use a numerical number when the discount doesn't appear as attractive in percentage terms.
Offering a free rental period to your customers may be the enticing offer that gets them to sign on the dotted line. Humans are programmed to be intrigued and enticed whenever they see something free. Therefore, capitalizing on this interest can help increase your revenue in the long run.
Many facilities have trucks that customers can hire to help them move their belongings into storage. If you offer this service as a free service, then this could be what helps stand your self-storage facility out from the crowd and ensures the next customer rents from you rather than a competitor.
Coupon codes can be a great way to increase your email database. A study in 2022 found that 80% of participants signed up to email offers in the hope of receiving a discount code couponscience. Coupon codes help make the customer feel as if they are getting an exclusive deal, creating a feeling of specialness for that customer.
A great way to incentivize retail sales at your facility is to offer a 'buy one get one free' deal on certain items, such as boxes. BOGOF deals help to push sales by the customer being excited about getting something for free, or a variation of the deal being a discount such as buy one get one half price.
Check out a recent article within the Self-Storage Marketing Strategies series that solely focuses on referral marketing and how you can utilize it to benefit your self-storage marketing strategy - Self Storage Marketing Strategies: Referral Marketing
Implementing Special Offers
How you implement your special offers can be the key to them being a success or failure. Have you told enough people about it? Is it actually a special offer? Are you losing too much money on it? Will it even be of interest to people? Who is this offer supposed to be targeting? These are the questions you must ask yourself when creating a special offer.
Identifying your target audience can be crucial to the success of the offer. This is because it guarantees that the offer will be relevant and appealing to the people who will most likely become your customers. Understanding your target audience will help you develop an offer that specifically addresses their requirements and wants, increasing the possibility that they will take advantage of it.
Setting a time frame will help the offer look more appealing, create excitement, and introduce the fear of missing out on the customers. The time frame will need to be long enough for enough people to hear and see the deal, but not too long; otherwise, you may lose far more than you initially thought!
Ensure you utilize your social media platforms and other forms of marketing to promote the special offer. You could send an email blast dedicated to the special offer, create signs or leaflets, and do newspaper ads.
Best Practices
It is crucial to ensure that your special offer has followed particular guidelines before releasing it to the public -
Be clear and transparent.
Define your objectives.
Define your target audience.
Choose the right type of offer.
Determine the timing.
Promote the offer.
Mistakes to Avoid
An over-complex offer.
Timeframe of the offer is too long/too short.
Offering limited options.
Failed to promote the offer.
Successful Industry Examples
Public Storage offers the first month's rent at only $1! www.publicstorage.com/

Life Storage offers 1-month rent-free! www.lifestorage.com/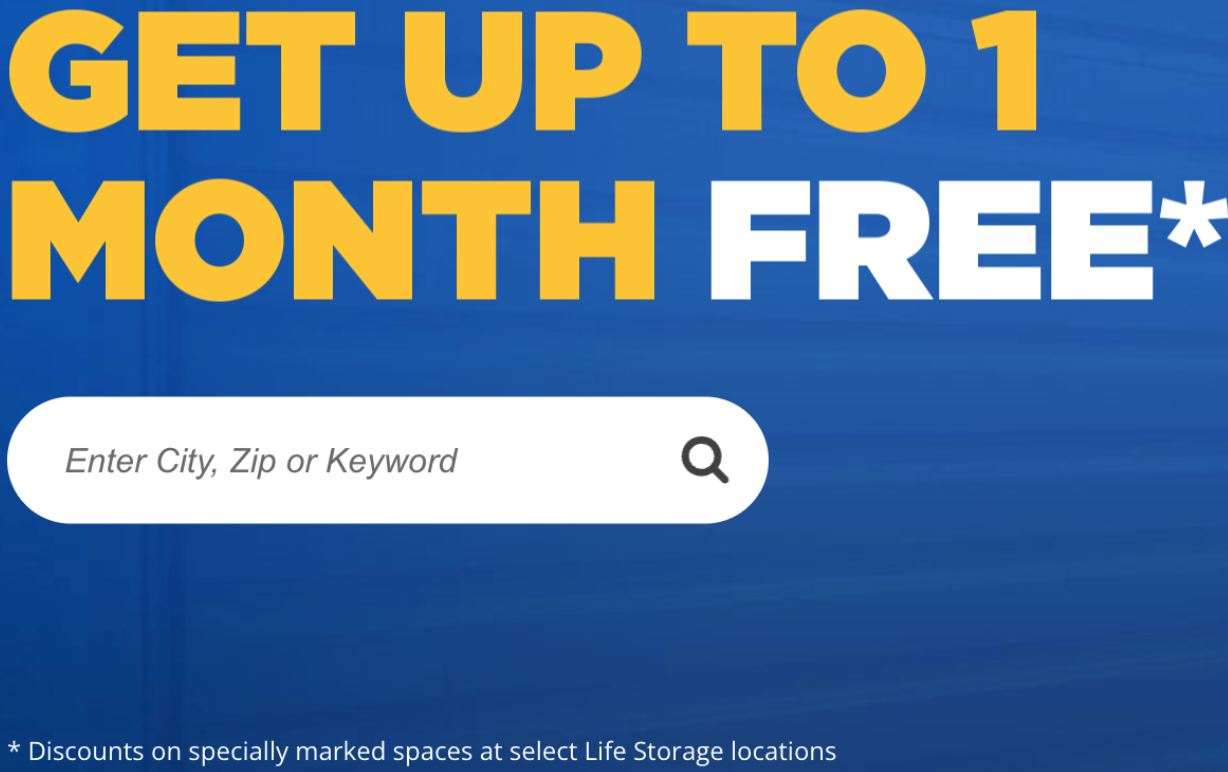 Final Thoughts
This article has discussed the effectiveness of discount marketing and why you should implement it at your self-storage facility and within your self-storage marketing strategy. The article has defined the benefits of discount marketing, from increased revenue to customer engagement. The types of special offers and the best practices involved in implementing them at your self-storage facility have been thoroughly discussed. Finally, the article provided two successful industry examples of discount marketing. Overall, discount marketing is an effective strategy to utilize to increase brand awareness and revenue.