Sharebee Technologies, Inc. announced today that it has raised an undisclosed pre-seed investment round led by Toronto-based self storage company All Canadian Self-Storage, with the participation of Broken Glass Angels, ex-Uber Montreal general manager JN Guillemette and a group of independent angels. The funds will allow the company to focus on growth initiatives such as expanding into the Greater Toronto Area, further improve the renter and host experience on the platform, and hire new talent.
The company is opening up the platform to Torontonians as of today, with 200 hosts already offering 300 unique locations for storage and parking. Sharebee is actively seeking new hosts in Toronto to meet the increasing demand for storage spaces.
"Sharebee is a pioneer in the P2P storage industry, with a product targeted at a market segment that is growing with the digitally enabled sharing economy. We are excited to work with and support Sharebee as they grow their customer base and expand into larger markets across Canada."

-Leslie Kellen, director of operations and marketing, All Canadian Self-Storage
Sharebee sources and manages the best storage spaces in a neighborhood, such as warehouses, garages, basements, vacant rooms and storage lockers. Sharebee Hosts can get reservations from verified renters. Renters can plan their move and storage needs in a couple of clicks, or by contacting Sharebee's storage specialist team. Every booking comes with full customer support, a $250,000 insurance policy for civil liability, and a $10,000 insurance policy for goods in storage, provided by Intact Insurance.
Sharebee's business model is different from valet storage service providers in that Hosts store customers' goods, a similar business model to Stashbee. However, Sharebee actually calls out on its website self storage unit sizes from 5x5 to 10x20+ with pricing considerably less than traditional self storage. Although, these storage spaces are not located in traditional self storage facilities.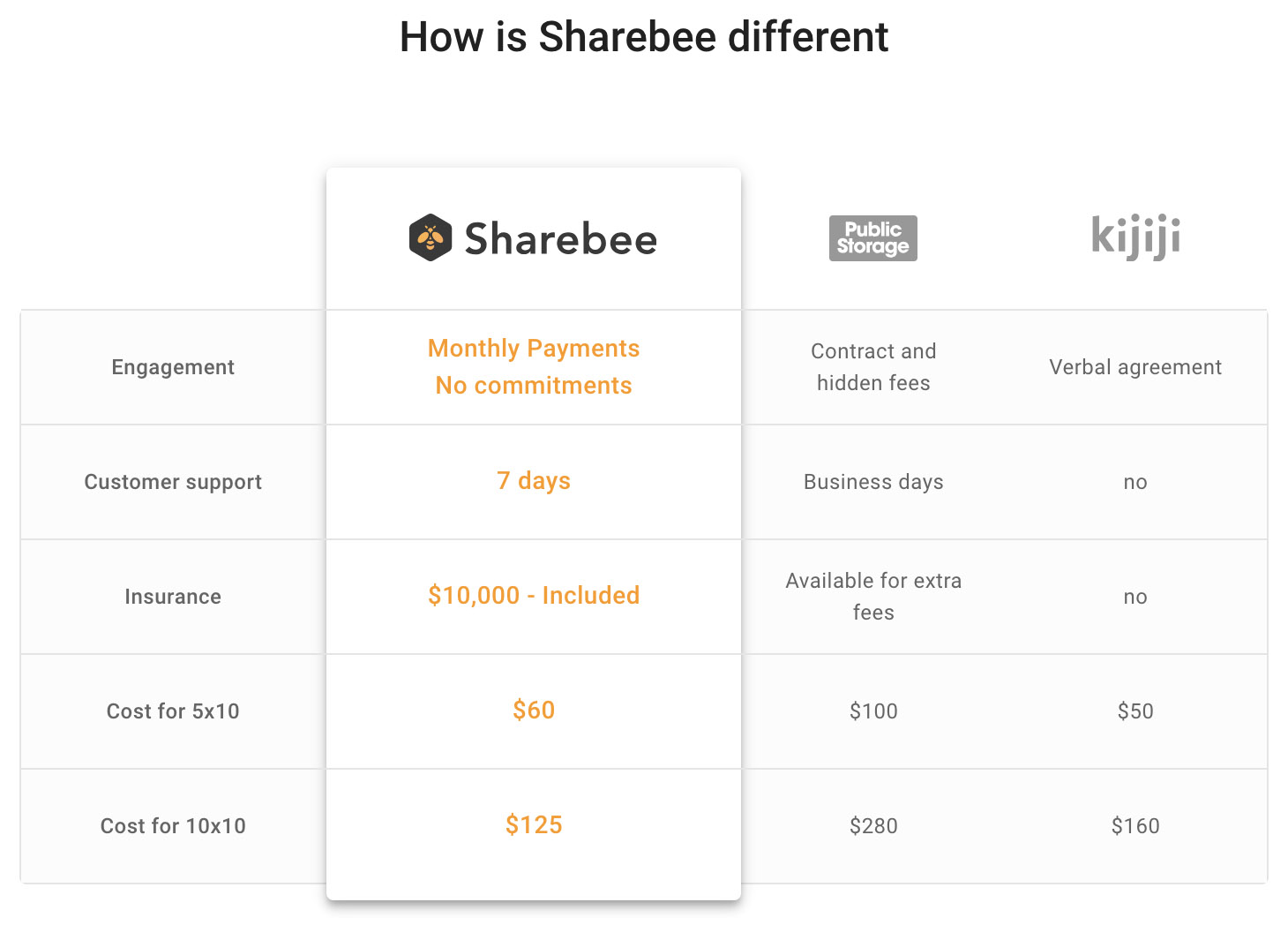 Sharebee charges a commission fee to the Renter on top of the Host's price that covers Sharebee service fees and renter's insurance. Sharebee also charges a commission fee to Hosts for up to $5 per payouts which covers the $500,000 Host Insurance. So for example, if a Host charges $200 per month for a space, Sharebee will charge a commission on top paid by the Renter, and charge the Host $5.
"Using your computer or mobile device, we envision a future where anywhere around the world, you can rent affordable, convenient and safe storage spaces in your neighbourhood for half the price of a traditional storage unit. We're very happy to be offering our services to the Greater Toronto Area."

-Max Villemure, co-founder and CEO, Sharebee
Launched in 2017, Sharebee is a Montreal-based technology company transforming the self storage market by aggregating idle spaces throughout cities and turning them into local storage that provides a safe, inexpensive and convenient experience. With more than 5,000 storage spaces in Quebec and Ontario, Sharebee is the leading peer-to-peer storage platform in Canada. Its vision is to bridge a community of neighbours and businesses by building friendlier and more efficient cities.