Whether you want to define the growing valet storage company Clutter to be in the business of self storage, one thing is certain; they're undoubtedly getting noticed. The four-year-old company made headlines on February 20, 2019 announcing a cash infusion of $200 million from SoftBank's Vision Fund.
Clutter's homepage literally goes head-to-head with the largest operator in our industry, Public Storage, comparing rates, but more importantly, offering convenience. Yet, it also states on its website, "We don't sell storage. We deliver peace of mind."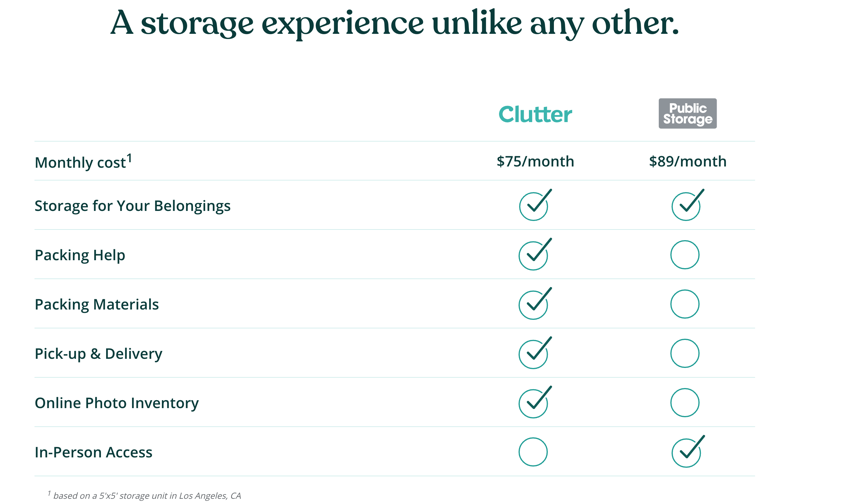 Clutter's business model is contradictory of conventional self storage, and that's intentional.
The company leverages (leases) cheap real estate on the outskirts of expensive city centers, offers packing help and pick-up and delivery services, and digitally catalogs a customer's inventory – all enabled through smart technology. A key difference is that customers do not have a defined storage unit. However, they can store as much stuff as will fit in a 5x5 space for $75 a month.
Clutter stores a customer's items in highly-secured, 100,000-plus square foot-sized warehouses, and utilizes sophisticated technology as its backbone. Upon arrival to Clutter's warehouse, items are barcoded and scanned, all integrated with its transportation system and online catalog. Additionally, warehouses are secure – not allowing its customers or outsiders in – all equipped with security cameras throughout.
This model is all about convenience to the customer. And the model works well in urban, densely populated markets. Clutter currently conducts business in eight cities; in some of the largest metropolitans in the country. Within each city, service is broken down by zip code or district.
"With self storage, if you want to store a sofa, you have to call up your friends and bribe them with pizza to help you on a Saturday. You drive it to a facility, you return the U-Haul, take an Uber home and your whole day is shot. With us, you just push a button."

-Ari Mir, chief executive officer, Clutter
While Mir differentiates (and jabs) between self storage and valet storage, Clutter does market itself as a competitor and disruptor within the self storage space. In fact, it's no secret the company has slighted the industry. However, the greater question is, does valet storage have its own unique niche within the storage sector? Essentially, are they offering a service and tapping into a customer base self storage wouldn't typically provide for? Perhaps there is some crossover.
Many self storage operators offer business storage solutions with flexible unit sizes and terms to accommodate businesses, large or small.
The convenience factor of having 24/7 access to a unit, drive-up, or drive in-and-out of a climate-controlled building is paramount. It takes Clutter 48 hours to "reunite" a customer with their belongings from their initial request. This is simply not efficient for businesses or many self storage customers.
"There is clear evidence that our customers want access to their stored items," says Don Clauson, chief executive officer of Strat Property Management Inc., a self storage operator with 68 properties in California, Texas, Arizona, New Mexico, and Utah.
"We have hundreds of existing customers coming in daily, before and after office hours. We also have many customers that need a unit, they need it now, and that can be provided to the customer at any time with traditional self storage."
Clauson went on to say that Clutter has done a great job in raising capital. However, he believes ultimately the consumer will decide what works best for them, and the industry can adapt, if need be.
"What needs to be better understood is how the Clutter model is economically viable and whether they can indeed be competitive at the same price point as self storage."

-Cory Sylvester, principal, Radius+
"Two guys and a truck still have to spend a lot of time driving from customer to customer during the day, so how efficient they can be is still in question. If we assume it costs Clutter $300 to pick up and drop off a customer's goods, it would take four months just to earn back the cost of pickup and delivery (using their advertised $75 price point). Once you factor in the cost of acquiring the customer from Google, that required length of stay jumps to 10 months. With 40% of self storage customers staying less than 12 months, Clutter is unlikely to compete for this segment of the market."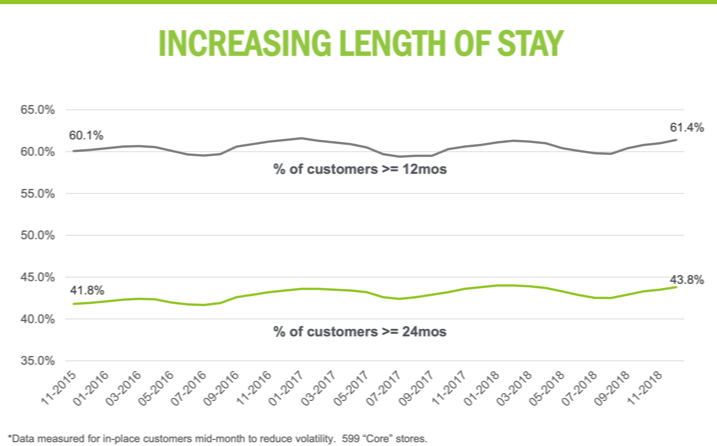 Sylvester added, "On the other hand, over 40% of consumers stay longer than 24 months, which is likely the segment that creates handsome profits for on-demand providers like Clutter. It will be interesting to see if they are successful in aligning their business model to capitalize on this segment of the market."
In contrast to traditional self storage, the valet storage business model does require heavy capital requirements for real estate, vehicles, marketing and labor. Traditionally, a self storage facility's greatest expenses are payroll, real estate taxes, utilities and management fee.
Robert Chiti, president and CEO of OpenTech Alliance, Inc., says that the big question is will valet service be attractive to consumers once the fee normalizes to levels that result in profitability.
"The other thing to consider is in looking at the valet storage model," adds Clauson, "If the customer that is never going to access their items still needs some of them back during their 12 to 18 months, what is the cost of retrieving those items, bringing them to the customer, picking them back up and bringing them back to Clutter's warehouse? These are added expenses Clutter does need to account for."
Clauson said the number of times his customers access their items is a staggering number over a 12-to-18 month period.
In the end, the big question remains, is valet storage a disruptor to our industry? Or, is it expanding the storage model to include other uses the industry has not tapped into?
SoftBank's $200 million funding brings Clutter's total funding to $297 million – more funding than for any other on-demand storage startup combined. According to Forbes.com, Clutter plans to use the money to expand beyond its eight markets, and is already targeting three new cities: Philadelphia; Portland, Oregon; and Sacramento, California.
Excerpt from BusinessWire: "We believe that storage is a vast and traditional market with huge potential for disruption, and Clutter's technology and superior customer proposition will help facilitate future growth in expanding urban communities where space is at a premium," said Justin Wilson, director at SoftBank Investment Advisers. "Clutter is using technology to help people conveniently store and access their possessions on demand. We are excited to partner with Ari and his team to support the next phase of their growth into new domestic and international markets."