City commissioners in Pompano Beach Florida imposed a six-month moratorium on self storage developments, part of a broader resistance to such projects.
Commissioners unanimously approved the temporary moratorium on accepting applications and issuing permits for self storage development at their meeting Tuesday night. The commissioners had granted preliminary approval on the first reading of the moratorium ordinance at their Sept. 10 meeting.
"This is long overdue. These are hulking buildings that occupy a great deal of space and employ a handful of people," Vice Mayor Barry Moss said at the Sept. 10 commission meeting.
During the six-month moratorium, city staff will develop zoning proposals to prevent clusters of self storage development within Pompano Beach.
According to a report by a consulting firm retained by the city government, the self storage market is overbuilt in Pompano Beach. The city has 28 such facilities, many of them located between I-95 and Florida's Turnpike.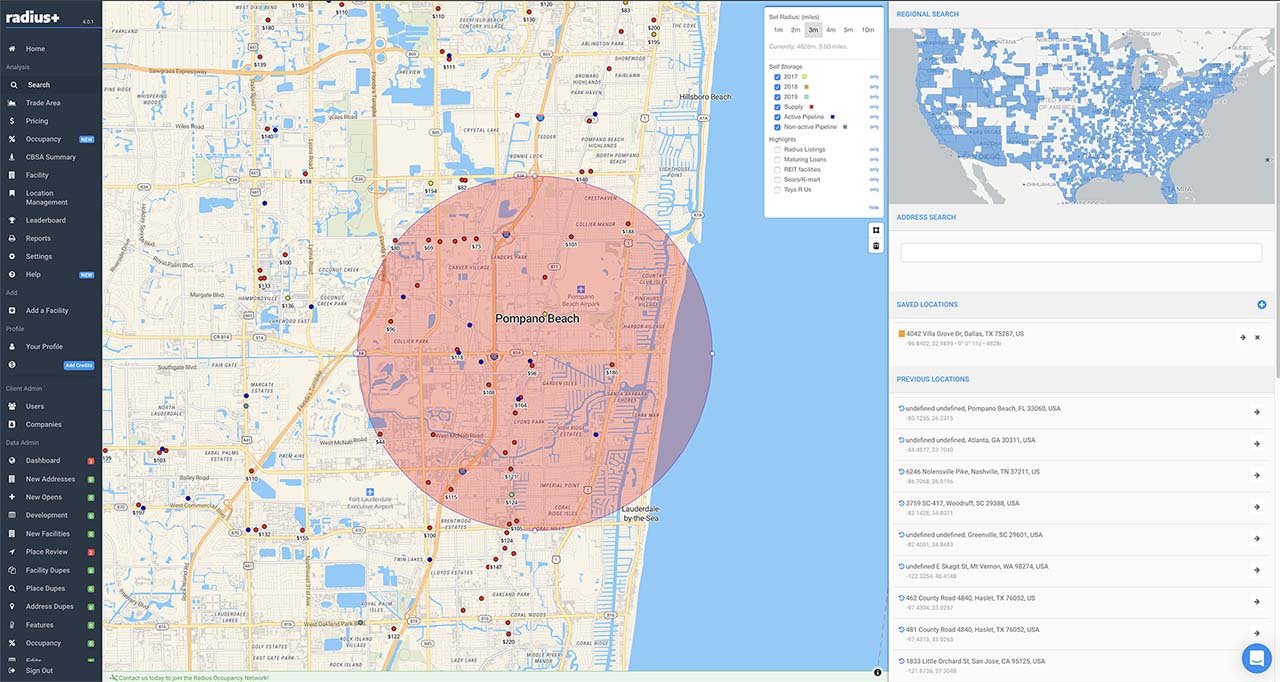 Open up your Radius+ browser to take a peek at the surrounding area.
Including existing and planned facilities, there will be 21.7 square feet of self storage space for every resident of the city, according to the report.
That is far more than seven other South Florida cities – Boca Raton, Boynton Beach, Deerfield Beach, Delray Beach, Doral, Fort Lauderdale and Hialeah – where the existing and planned supply of self storage space ranges from 4.7 square feet to 15.5 square feet, the report shows.
Other municipalities, including Miami and New York City have limited self storage development, said Mike Mele, Tampa-based vice chairman of Cushman & Wakefield and head of the brokerage firm's national Self-Storage Advisory Group.
"It's becoming popular around the country," Mele said.
Miami, for example, enforces a minimum distance between self storage facilities. "It hasn't really done much, frankly. By the time it was enacted, the area got pretty much overbuilt," he said. "In the long run, it's not going to be good for consumers," because self storage operators without new competition "are going to jack the price up."
Mele also said the Pompano Beach moratorium will probably have a limited impact because, at 20.7 square feet per resident, the city already has an excessive supply of self storage space: "Nobody's going to want to build with 20.7 square feet. The national average is 6 square feet per person."
Despite the ample supply of self storage space in Pompano Beach, the city has attracted some self storage investors in recent years. For example, in January 2018, Value Store paid $10 million for a 76,326-square-foot self storage facility at 2250 North Powerline Road, or about $130 per square foot.