We've all read the articles and heard the stories - REITs (Real Estate Investment Trusts) are taking over the self storage industry more and more by the day, but do we know the cold hard facts? REITs have been highly regarded as the larger, dominant players in the self storage space, but could we all be missing the forest for the trees here? Market saturation is evaluated on consumer purchasing power, competition, technology, and prices. With customers no longer practicing brand loyalty and technology constantly changing - who is the real MVP? If REITs are taking over the industry, why are mom-and-pop and smaller facility owners staying competitive in organic search results, and in some cases even outperforming REITs? The news about REITs taking over the self storage industry is all smoke and mirrors and the facts below speak for themselves, keep reading.
Self Storage In The Numbers
To understand the self storage market you must first understand your placement in it. To date, the self storage industry is segregated into three primary categories - largest public companies, REITs, and small operators. 9% of the national industry in the United States is owned by the next top 100 operators (both public and private entities),18% of facilities are owned by the six largest public companies, such as CubeSmart and U-Haul, and 73% of facilities are owned by small operators. (Self-Storage Almanac, 2019)
Although it may seem REITs have the majority of the market, it is evident that small operators still consume the vast majority of the industry. To date, the top five REITs in the industry are Public Storage, Extra Space Storage, Cube Smart, Life Storage, and National Storage Affiliates. As of May 2019, equating to over $65 billion in total. In 2018, these REITs acquired $1.5 billion in assets, although that may seem like an astronomical number, this is the slowest rate of external growth since 2013, according to Seeking Alpha.
In the United States, roughly one in ten Americans rent space at a self storage facility. According to Seeking Alpha, third-party management is one area of the storage sector that has many investors excited about future high-margin growth opportunities. Public Storage calls it the "Amazon strategy", in which REITs collect a percentage of revenue from private storage operators for the use of their brand and technology platform, making them ideal for investors - but has the "digital age" leveled out the playing field?
Small Facility Owners Dominate Local Markets
As discussed in the previous text, market saturation is evaluated on consumer purchasing power, competition, technology, and prices. Now, let's talk about the demographics in the self storage industry and how this all ties together. With recent research The Storage Group has found that tenants today are no longer practicing brand loyalty; not only has this new mentality leveled out the playing field for smaller facility owners, but it has also helped them excel. Tenants are no longer interested in the brand of your facility. Instead, they are interested in the best value, the most convenient location and rental process, and the cleanest facility with a variety of amenities, such as a free moving truck with a unit rental. Tenants typically search for storage within 3-5 miles of their home; giving small facility owners a competitive edge if they happen to be close to a prospective tenant. As you can see in the photo below, a local facility owner beat a REIT in placement in the organic search results.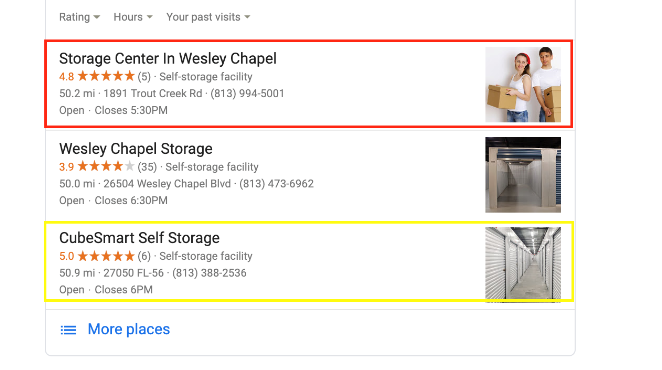 Mom-and-pop facility owners are not only saturating the market in the numbers, but they are in many cases performing better in organic searches than big box facility owners. Understanding the power of your local market can be the key you've been looking for that opens the door to success and ROI growth.
Competition Goes Digital
Gone are the days of placing ads in the paper or yellow pages to fill units or to promote your facilities auction. We are now in the digital age and all of the local competition has gone straight to your favorite search engines. According to Statista, Google still maintains over 88.47 percent of the search engine market, making it the most lucrative platform.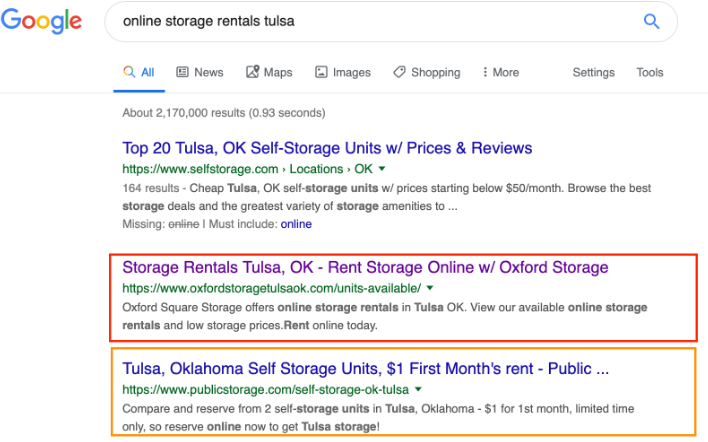 We are now operating in a world where small business owners understand the impact of implementing a comprehensive digital marketing plan. According to Clutch, nearly half of small businesses (48%) invest in content marketing for SEO (Search Engine Optimization), an increase of 16% from 2018 and the top 5 organic results earn approximately 60% of clicks on a search results page.
The Power of Digital Marketing
Bottom line, personalizing your facilities digital marketing landscape means staying ahead of the big box competitors. There is a place for small facility owners to stay ahead of the competition, and that place is Google, Bing and other search engines. By including SEO strategies, a mobile-friendly website, and content marketing into your plan, this platform provides your facility the opportunity to gain increased visibility and better conversions compared to the REITs. Hiring a SEO company that does not outsource their SEO and specializes in the self storage industry is best practice. This way your facility receives updates straight from the source and works with experts that are knowledgeable on optimal keywords for higher Search Engine Result Placement specific to your industry.